Aviation Travel Articles
Aviation travel articles capture the magic of piloting a plane to your destination. Whether it's a trip close to home or to a far corner of the globe, our aviation travel articles always offer a unique perspective.
Tuesday, May 26, 2009
Air Show Roundup: Sun 'n Fun 2009

In spite of lighter attendance than last year, the 2009 EAA Sun 'n Fun Fly-In drew an enthusiastic crowd to Lakeland, Fla., for the week's festivities.
Tuesday, April 21, 2009
The Country Pilot
Joining the farm team for tailwheel training

He calls himself the "Country Pilot," and with his herd of taildraggers and 3,000-foot farm field, he cultivates the art, science and joy of simple stick and rudder flying. He's even apt to begin sentences with, "I'm just a country pilot…," when relating how he prefers good weather when flying his PA20 Pacer on the 1,000-mile journey to Sun 'n Fun, or why the Pitts S-2B he bought himself as a retirement present in 2002 has all the performance he'll ever need for aerobatics.

Tuesday, April 7, 2009
Fly The Bahamas
What you'll need to know as a first-timer to the out islands

For many pilots, it's a rite of passage; for others, it's their daily work. Some are fearful at the thought of so much water below, and their first flight over an ocean becomes an adrenaline-fueled leap of faith.

Monday, April 6, 2009
Blimpin'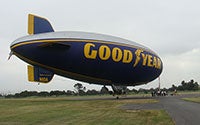 As I drive down the 405 freeway toward the Goodyear Blimp Base in Gardena, Calif., I can't help but think that, in 20 minutes, I'll be in an aircraft flying at half my driving speed. Not only that, I'll be in one of the world's most recognizable aircraft with one of aviation's most recognizable heroes, Mike Melvill, pilot/astronaut of Scaled Composites' X Prize–winning SpaceShipOne.
Tuesday, February 10, 2009
Fly-In Dining Grows Up

Few things go better with aviating than eating. There's something supremely magical about liberating yourself from the bonds of terra firma to land at a destination where a hot meal and good conversation await you. Unfortunately, pilots think about eating in the most boring and mundane terms. We fly more for the experience—not the food—and we accept mediocrity.
Tuesday, December 16, 2008
Johnson Creek: Backcountry Fly-In Mecca
Once a year, this remote Idaho strip becomes Super Cub central

Mention the words "Johnson Creek" to any backcountry pilot, and he or she will give you a wide smile, nod in approval, and describe a place of rugged beauty and challenging flying.

Tuesday, December 16, 2008
Plane Living
Finding a residential airpark that's right for you

What's an aircraft owner's definition of a "housing crisis"? Owning a home that's too far from the airport. Fortuntately, there's never been a better time to develop a rescue plan.

Wednesday, December 10, 2008
The $1.8M Alternate!

How would you like to be on a flight and have a weather diversion cost 1.8 million dollars? That's the estimated cost of manpower, materials and fuel it takes to land the space shuttle at Edwards AFB in California instead of at its home base at Florida's Cape Canaveral.
Tuesday, October 21, 2008
Space Flight For Sale
How Virgin Galactic and Scaled Composites are rewriting the rules of space travel

While most little children around the world were being read to sleep with soothing fairy tales, Lina Borozdina was getting tucked in for the night with stories of space travel. Her father would sit next to her bed and conjure up wild tales of how his daughter would stow away in a rocket bound for space, only to be discovered when zero gravity betrayed her and caused her to float out into the cabin. Each night, his stories would take Lina on different adventures into the far reaches of space. In doing so, he planted the seeds of a dream.

Tuesday, September 30, 2008
Extreme Flying
The 109th Airlift Wing pilots the world's largest ski plane to the Greenland ice cap

"The skiway is in good shape. We've had good grooming, and the past four nights, temps have been below minus-10 degrees C, which helps firm up the newly worked surface. Be advised that the afternoon temps have been very warm and cook the surface into wet soft slush. These conditions could cause deep ruts in the skiway and inhibit takeoffs.