Tuesday, March 27, 2012
10 Favorite Fly-in Vacations
Hidden gems await discovery only by small plane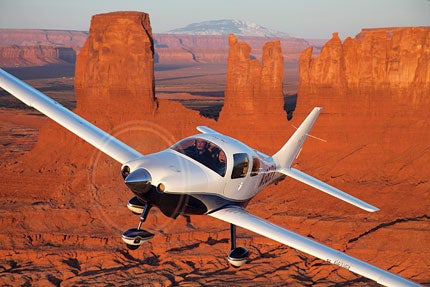 Patrick Carter of Nflightcam and his Columbia 350 partner, Scott Lumbert, tour Monument Valley from the air.
There it stood before me: a wall-sized aeronautical chart that measured nearly 10 feet tall and 16 feet wide. My friend had adorned his hangar with this custom-made oddity, and its imposing nature fascinated everyone who saw it; I was no exception. In full color, it was a giant version of the standard World Aeronautical Chart (WAC) with all the aviation details intact and perfectly accurate. As I stood gaping at it with my head sideways like a dog listening to an odd noise, I realized why I had become a pilot. There before me was ultimate freedom: 19,600-some public and private-use airports that I could travel to any time I wished.
Every single person who has ever run their finger over their freshly printed pilot certificate has uttered the word "freedom" somewhere in the conversation explaining why they learned to fly. We probably struggled to explain it right, but the true meaning of why we fly was depicted in each of those tiny airport dots on that enormous chart. In this great country of ours, any of us who are certified to fly—solo or otherwise—can point our aerial craft in any direction we want and explore the thousands of destinations our nation has to offer.
With 19,600 places to land, how do you know where to start? We at
Plane & Pilot
thought it would be fun to give you a head start and share some of our favorite vacation fly-in destinations.
Monument Valley, Utah (UT25)
If you've seen any of the legendary Western films with John Wayne, chances are you've seen the grandeur that is Monument Valley. This is the West as imagined around the world, with a scale so huge it needs to be seen in person. The gateway to this isolated gem is Goulding's—a private airstrip and resort just a few miles from the scenic heart of this valley. You'll need to call (435) 727-3231 with your aircraft information and arrival time to get permission to land. They'll usually send a courtesy van to take you to the 62-room Goulding's Lodge, also within walking distance. Note that these rooms get booked months in advance, so call well before your trip, and the airport doesn't offer aviation fuel or rental cars, so plan ahead.
The airstrip sits at the base of a 700-foot mesa at an elevation of 5,192 feet MSL, and the runway is 4,000 feet long, so it can be a challenging landing or takeoff. You'll land uphill on runway 16 and takeoff on 34. Be sure to bring chocks since the paved parking area is sloped. If the stunning views aren't enough to inspire you, Goulding's has excellent food, a myriad of nature programs, a trading post museum, wonderful campgrounds and several tours into the valley. Visit
www.gouldings.com
.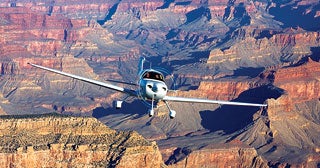 Grand Canyon
Grand Canyon National Park, Ariz. (KGCN)
You can't go wrong with visiting one of the Seven Wonders of the World, and flying there in a GA aircraft is spectacular. Grand Canyon National Park Airport sits just seven miles from the south rim of the canyon and two miles from the park entrance. The towered airport boasts a single, 9,000-foot runway. There's no landing fee, though there's an overnight parking fee, and fuel is available 24 hours.
Pilots will need a specific chart: the Grand Canyon VFR Aeronautical Cart (available from most chart sources). This is used to fly within the Grand Canyon Special Flight Rules Area (GCN SFRA). Traffic flows in certain patterns and through specific corridors when overflying the canyon, and you need to be familiar with the procedure. KGCN's altitude at 6,609 feet means you need to use high-density altitude procedures, and be aware of up- and downdrafts above the canyon.
Page 1 of 4