Tuesday, March 27, 2012
10 Favorite Fly-in Vacations
Hidden gems await discovery only by small plane
After taking in breathtaking views of the turquoise Colorado River below, you can retire to one of four major hotels less than three miles away, including the Grand Hotel and Crown Plaza Resort. Pilots also have the option of flying into Grand Canyon West airport (1G4), at the west rim of the canyon and close to the "Skywalk" outcrop.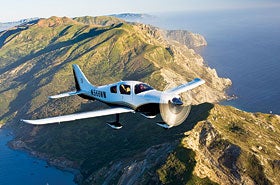 Catalina Island
Catalina Island, Calif. (KAVX)
Few fly-in destinations have hosted as many movie stars and celebrities as Catalina Island. Just 28 nm from the urban jungle of Los Angeles, Catalina is about as un-California as you can get (except for the cobalt-blue skies and near-perfect weather). The island's "Airport in the Sky" is surrounded by mystique owing to its unique setting on the blasted-away flat top of a mountain, its relatively short 3,000-foot runway with cliffs at both ends, and notorious up- and downdrafts. In truth, a simple checkout with a qualified CFI will assuage any worries.
After landing, you can take the 30-minute shuttle to Avalon Harbor to partake of world-class accommodations at 19 hotels, including the Hotel Vista Del Mar and Avalon Hotel. Since no cars are allowed on the island, you'll enjoy quiet ocean breezes, excellent fishing and boating, and over 200 miles of hiking trails with unmatched views. Or fly 20 minutes to John Wayne, Long Beach or Santa Monica airports, and take a day trip to Disneyland, Hollywood or any of SoCal's abundant attractions.
Gaston's White River Resort, Ark. (3M0)
If you love to land on perfectly manicured Bermuda grass, eat great food, ogle classic airplanes and get in some excellent fishing, it doesn't get any better than Gaston's Resort in Lakeview, Ark. Snuggled into the Ozark Mountains, Gaston's 79 guest cottages and 400 acres of pristine beauty have been considered the best fly-in resort in the area for over 50 years. Gaston's has grown through the years to include world-class fly-fishing (and a fishing school), 70 guest boats, a renowned restaurant with a famous Sunday brunch and more.
Gaston's 3,200-foot turf airstrip is also famous with pilots who love to land on grass (if you haven't tried it, you'll fall in love with it, too). The resort has 100LL fuel available, and lots of open parking. The resort also welcomes day trippers and $100-hamburger pilots who are free to use the grass strip. Pilots beware of power lines on the west end of the field. Visit
www.gastons.com
.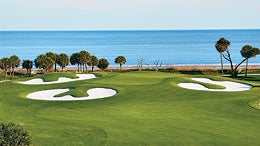 Hilton Head
Hilton Head, S.C. (KHXD)
Visitors to the sugar-sand beaches of Hilton Head Island in South Carolina are always struck by the lush vistas and diversity of the quintessential East Coast resort. It has long been a destination resort for golfers—with the PGA tour stopping at Harbour Town Golf Links at Sea Pines resort—and is consistently in the "Best Of" lists in respected travel publications. Hilton Head now has some 250 hotels at every level of luxury, and with the addition of the Disney Resort, should be included as a prime fly-in destination for pilots, whether with families or as a quiet couple's getaway.
Hilton Head Airport is open to the public, with its 43,00-foot single paved runway. The towered airport offers several instrument approaches, Jet A and 100LL through the FBO there—Signature Flight Support. The airport is just three miles from town and within six miles of just about every resort on the Island, including Disney. Come for the golfing, and stay for the relaxation.
Page 2 of 4