Tuesday, March 27, 2012
10 Favorite Fly-in Vacations
Hidden gems await discovery only by small plane
Kiwassa Lake, Adirondacks, N.Y./Lake Placid (KLKP)
Maybe fall leaves and the pastoral beauty of the Adirondack Mountains is calling to you? If so, Lake Placid airport is your gateway to this idyllic area. There are several resorts in the Lake Placid area, but if a quiet weekend escape is in your plans, Kiwassa Lake is one of the most beautiful. Just 10 miles from Lake Placid, Kiwassa Lake B&B sits on the shore of Saranac Lake, nestled against Adirondack State Park. Kiwassa Lake Lodge is also on the lake, and gives access to 23 miles of Adirondack waterways.
Lake Placid airport is non-towered and has a 4,300-foot paved runway, including fuel and maintenance through Adirondack Flying Service. The real treat here is you can land a seaplane on many Adirondack lakes. In fact, you can land your seaplane right at Kiwassa Lake B&B and stay for a few days.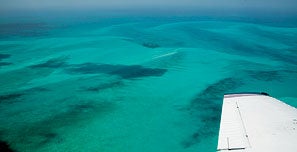 Bahamas
Great Exuma Island, The Bahamas (MYEF)
The Bahamas were seemingly put on this earth to be seen from a GA airplane. From no other perch, can you take in all that these islands have to offer. You can't help but feel changed once you visit the islands of the Bahamas, and there are pilots who have spent 20 years flying The Bahamas and have only scratched their surface.
It's extraordinarily difficult to name just one vacation spot in this vast paradise, but the long and narrow chain of 365 islands known as the Exumas is a great place to start. The international airport on Great Exuma Island (Georgetown) is one of only three designated international points of entry, so you can fly there direct from the U.S. Its paved 7,000-foot runway accommodates jets. Once there, a slew of amazing resorts awaits, including February Point, Grand Isle and the ultra-luxurious and private Musha Cay Resort. True to the Islands' motto, it really is better in The Bahamas. Visit
www.bahamas.com
.
Roche Harbor Resort, San Juan Island, Wash. (WA09)
There's a reason why so many artists, authors and adventurers have come to call these islands home: their rugged, unsurpassed beauty. Great vacation fly-in destinations always contain five key ingredients: amazing scenery, a good airstrip, great accommodations, excellent food and enough (or as few) activities to satisfy anybody. Roche Harbor Resort has it all. Though the grass airstrip is tiny (only 3,500 feet long and 30 feet wide), the scenery once you get there is amazing. Pilots can also land floatplanes at Roche Harbor.
Roche Harbor has the best selection of hotels and resorts in all the San Juan Islands. Several waterfront restaurants—such as the Lime Kiln Café and Madrona restaurant—are renowned favorites. There's plenty to do here, and if you've been to the San Juans, you know kayaking is unsurpassed. The San Juan Islands are considered one of the best places on earth to see orcas, and watching them from a kayak is awe inspiring. If the Roche Harbor airstrip is too short, you can also land at Orcas Island airport (KORS) or Friday Harbor (KFHR) just seven miles away.
Page 3 of 4