Tuesday, March 27, 2012
10 Favorite Fly-in Vacations
Hidden gems await discovery only by small plane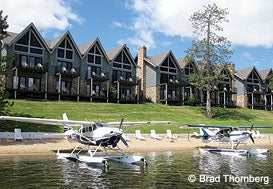 Madden's On Gull Lake
Madden's On Gull Lake, Brainerd, Minn. (9Y2)
Any resort that's owned by pilots has got to be a great fly-in destination. Madden's Resort on Gull Lake near Brainerd, Minn., doesn't disappoint. The resort is surrounded by water on three sides for a perfect secluded getaway and a haven for seaplane pilots. The resort's four world-class golf courses are a big draw, as is Madden's spa. Whether you prefer to do nothing or everything, there's something here for you. The resort has five restaurants, five swimming pools (two outdoor, three indoor), USCA-sanctioned croquet lawns, tennis, whirlpools, saunas and even a waterpark with trampolines and water toys in Gulf Lake. If you have kids, you can drop them off at the "Adventure Cove" program, where they'll be busy with crafts, field trips, watersports and much more.
The East Gull Lake airstrip is just a mile from the resort and features a 2,618x160-foot turf runway in good condition. The non-towered strip's CTAF is 122.9, and plenty of tie-downs are available (there's no tie-down fee). If you've ever wanted to earn a seaplane rating, an on-site instructor and examiner are available, and the rating can be accomplished in a long weekend. This May 4-6, Madden's will be hosting its annual safety seminar. Visit
www.maddens.com
and
www.wingsoverwaterseaplanes.com
.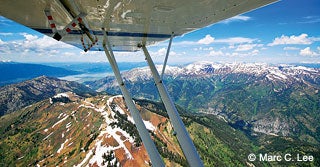 Jackson Hole
Jackson Hole, Wyo. (KJAC)
While Jackson Hole airport itself isn't your destination, it's the gateway to some of the most unsurpassed, breathtaking scenery anywhere in the world. Besides the obvious lure of Yellowstone National Park, the Grand Tetons in this part of Wyoming cradle some of aviation's most idyllic spots. Jackson Hole is perfect for families, especially if you're a fan of the countless dude ranches and cowboy-esque resorts that dot the region, or if you want to see the grandeur of Yellowstone itself.
For pilots, several airparks are within flying distance of Jackson Hole, including Alpine with its newly paved runway and groomed grass strip. It's home to several Aviat Husky aircraft and makes a great launching point for white-water rafting, hiking, horseback riding or just exploring the area. And don't let the ruggedness of this area fool you. Some incredible eating is to be had at places like The Nordic Inn just outside Alpine.
So grab that toothbrush and duffle bag, and fuel up that aircraft. As a pilot, you hold the key to some of the most amazing vacation spots and resorts in the nation. Adventure is a lifetime pursuit, and we hope we've ignited the spark to begin today.
For readers who would like to plan big, the giant, wall-sized WAC chart is available from Higher Plane, Inc., at
www.hplane.com
.
Page 4 of 4