Tuesday, March 23, 2010
24 Hours: Death Valley
From one world to another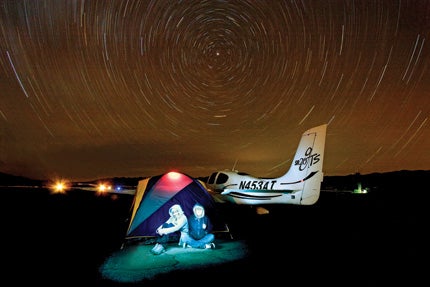 Humans need adventure, stories and new experiences. I don't know how many times I've heard friends talk about the millionth approach to the same old runway, but I still listen because I love to fly.
My first dreams of becoming a pilot were born while flying with my father to remote bush camps in northern British Columbia and Alaska. How easy it seemed to jump into a small airplane in downtown Vancouver, and within two hours, arrive at a completely different world. We'd step out of the cockpit into the wilds of nature—no lights, no traffic—a remoteness that we were privileged to access thanks to general aviation.
As a pilot, I get wrapped up in technical details: how fast and how high. As a CFII, I focus on lesson progression. But today is different: I simply want to check weather, preflight and depart to a new destination for a new experience.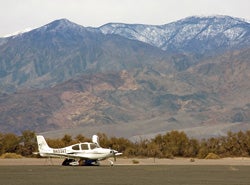 1:00 p.m.:
"Clear prop!" Jessica Ambats and I bring to life the Cirrus SR20 that we've rented from Seaside Aviation at Santa Monica Airport in California. The baggage compartment is loaded with camping gear, but not much else. Most of my flight time has been logged in older airplanes with steam gauges. I'm impressed by the simplicity of the electronic checklists on the Avidyne glass panel. There's no need to reach for paper—it's all in front of you and easy to read.
1:15 p.m.:
"Cirrus 453AT, cleared for takeoff, runway 21, right turn at shoreline approved." I advance the throttle, and the SR20 jumps at the bit. A gentle pull on the side stick, and we're airborne. For once, I'm not fixated on our climb rate, but I smile as the houses below get smaller. During my three years as an instructor and director at American Flyers, I've taught students how to fly cross-country trips but never got the chance to do them myself. It's my turn to relax and do a different type of flying than the methodical student training I've grown accustomed to. Jessica posts up on the radios, and not having to monitor every word is a relief. This adventure feels fresh, fun and even spontaneous.

Death Valley National Park is home to the lowest, driest and hottest locations in North America.

Furnace Creek
Airport sits at 211 feet below sea level.


1:30 p.m.:
We're level at 5,500 feet on an easterly heading. The Cirrus is fast, but I'm not obsessing over knots like I normally might. We're going, and that's what matters. Whether you're a new student pilot or a Boeing 747 captain, there's a moment during each of our aviation lifetimes when we feel warm inside and say to ourselves, "Hey, I'm flying an airplane!" Right now is my moment.

1:45 p.m.:
The mountains of Angeles National Forest make their last step, and the flat vastness of the Mojave Desert appears over our cowling. An endless stretch ahead is calling, and we feel free. Death Valley, our ominously named destination, features the lowest terrain in North America (Badwater Basin is 282 feet below sea level) and the hottest recorded temperature in the Western Hemisphere (134 degrees F in 1913). The Winter Solstice is just around the corner, and a low of 30 degrees is expected at Furnace Creek Airport—probably a good thing, because I forgot our water in the car.

1:55 p.m.:
Jessica contacts Joshua Approach. Although it's tempting to continue our journey without talking to anyone, we want to see if we can get approval to fly through the restricted airspace over Edwards Air Force Base. Just because.
2 p.m.:
We're cleared through R-2515 and R-2524 at or above 6,000 feet. Even from up here, the runways at Edwards, which are used as a landing alternate for the space shuttle, are amazingly huge. Additional airstrips are carved right into the dry lakebed of Rogers Lake, and their runway numbers look like they were etched by giants into the earth.
Page 1 of 3