Tuesday, March 23, 2010
24 Hours: Death Valley
From one world to another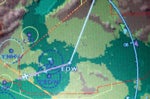 2:45 p.m.:
We ask approach for lower, and descend to 4,500 feet to search for more goodies in the Wild West. Near the big blue "I" in RESTRICTED R-2524 on the Los Angeles Sectional, we spot an old wind-blown and sand-blasted aircraft that has seen better days. We weave between rugged mountain peaks and make our way over desolate terrain into the valley. Approach advises that there's no traffic in sight, and that we should change frequency and squawk VFR. Another euphoric wave of freedom takes over.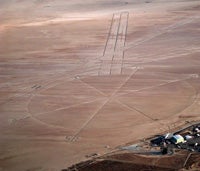 We're cleared by Joshua Approach into restricted area R-2515 and pass by Edwards Air Force Base.
2:55 p.m.:
The panorama of Death Valley National Park from above rewards us with dreamlike patterns of sands, rock formations and salt flats. We listen to music on an iPod Nano through the airplane's audio-input jack, and we throttle back, flying lazy, sweeping S-turns to take it all in.

3:15 p.m.:
This is my first time landing a Cirrus and my first time witnessing an altimeter go below zero feet. As we turn final for the northern runway at Furnace Creek Airport, which sits at 211 feet below sea level, I reduce power, and the aircraft follows the movement of my hand on the side stick. I line up on the centerline, and the SR20 handles the earth like an old friend when our wheels touch down. We taxi to the empty ramp—it feels as though we're driving on a sun-scorched road—and shut down.
3:20 p.m.:
It's completely quiet, and the dry desert air is remarkably still. My ears ring in the silence. The ramp looks and feels like cracked lips in need of ChapStick. The crowded city sprawl is now a memory, and I'm amazed at the sudden transformation of landscape that our airplane has provided in only two hours. (And we didn't have to honk at a single person.) It's just like the trips with my father up north, when piloting was still a dream. We're giddy but we don't say much as we savor the moment.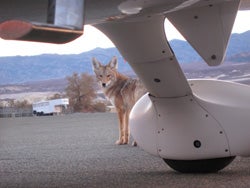 4:15 p.m.:
Our tent is pitched and sleeping bags ready. The surrounding valley turns golden with the sunset.
5:00 p.m.:
The first lights appear in the darkened sky. We cheer at shooting stars, watch in awe when satellites cross overhead and try to identify constellations as they appear over the horizon. The desert night is alive, and the legion of stars makes the sky brighter than it is dark. Looking at the night sky, just as humans have for thousands of years, makes you appreciate being in the moment. We set up a tripod and camera in an effort to capture the sentiment.
6:00 p.m.:
There are some things you just can't leave behind. (Water is one of them, Jessica reminds me.) We plug a mini-projector into the iPod Nano, and Top Gun illuminates the Cirrus fuselage, our makeshift movie screen.
9:00 p.m.:
The sun has been down for more than four hours, and temperatures are sinking. We bundle up in our warmest clothes and take shelter in the sleeping bags.
Page 2 of 3