Tuesday, March 23, 2010
24 Hours: Death Valley
From one world to another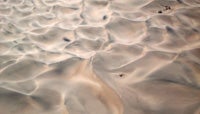 Miles of sand dunes stretch to the west of Stovepipe Wells Airport.
6:45 a.m.:
I awaken to the howl of what I think is Maverick doing a flyby, but instead discover a pack of coyotes singing to the rising sun. They're just a few yards away. The air is frigid, and I'm not ready to be awake, but we're now on Coyote Standard Time and the howling persists. We watch as the wild animals inspect our ride, jump onto the wind tee, then scurry across the runway and vanish into the scrub brush.
8:30 a.m.:
Coffee is a must. We hop into our flying machine and take off. Jessica flies a couple of touch-and-goes ("just because"), and the Little Cirrus That Could whistles to the cold morning sky.
8:50 a.m.:
It's a pretty approach over sand dunes into Stovepipe Wells, only 16 nm to the northwest. The runway isn't as well maintained as at Furnace Creek, but it's still decent for landing, and we can't resist. The early-morning air is unmoving, and I touch down on runway 23, turn around at the end and depart on 05.
9:00 a.m.:
The Avidyne display tells us that density altitude is minus-1,700 feet—1,700 feet below sea level! The Continental IO-360 is performing at 102% power. However, I'm not performing quite as well. Coffee: direct enter enter.
9:15 a.m.:
Joshua Approach clears us through the restricted airspace again. We're making good time heading back west. But it doesn't feel good. The shift from our desert existence to "real life" in Los Angeles seems too abrupt. We need to ease the transition, and a "spaceport" seems like an appropriate setting. Next stop: Mojave.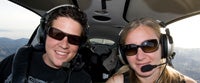 Enjoying the moment with a panoramic view of Death Valley from a Cirrus SR20.
10:00 a.m.:
Rows of large, sleeping airliners are in sight so we ask approach for a frequency change. You never know what you'll see at Mojave, which serves as a test bed for civilian aerospace. We park the Cirrus between an L-39 Albatros and a PA20 Pacer, and just down the ramp loom several menacing-looking F-14 Tomcats (I expect Maverick to appear). We settle in at the Voyager Airport Restaurant. Coffee is good.
12:30 p.m.:
No matter how much you don't want a flying trip to end, it's always comforting to hear what I like to call "local mothers," controllers from your home base area. SoCal is our local mother, and she welcomes us back to the Los Angeles basin. Today is so clear that we can see Catalina Island, the Channel Islands and beyond. It's so different from the typical haze to which we're accustomed that the limitless view is almost disorienting.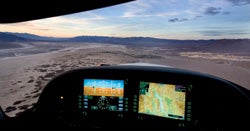 12:45 p.m.:
We're not ready to end the journey just yet, so a detour toward the Malibu shore for a surf check is in order. The swell is mellow, good for a longboard—clean, waist-high waves, not too steep. We orbit over Point Dume and check local surf spots at Surfrider Beach, Topanga Point and Sunset Beach. On the edge of Santa Monica's airspace, we make one last effort to prolong the voyage. "Santa Monica Tower, Cirrus 453AT over Palisades with Poppa, request low-level shoreline transition for left traffic, runway 21." We drop down to 500 feet, pass the Santa Monica Pier, smile down on the Venice Beach break surfers and start a climbing turn to join the pattern.
1:00 p.m.:
We shut down on the ramp at Seaside Aviation, and pause for a moment. All is still quiet from inside the cockpit. The SR20 has become a friend—like the bond a surfer has with a surfboard. It dawns on us that not once on this trip did we step more than 100 feet from our airplane. Death Valley was the destination, but the Cirrus was the adventure. We hesitantly open the gull-wing doors, and the world rushes in. I can't wait to relive the journey again by sharing the story with friends at the airport. There's a saying on the water: "Only a surfer knows the feeling." The same is true of us in the sky: "Only an aviator knows the feeling."
Page 3 of 3