Tuesday, September 6, 2011
30 Ways To Make Your Pilot Certificate Sizzle
Stretch your wings with these ideas to put excitement and challenge into your flying
16
]
Attend The Dayton Air Show
. As pure air shows go, this is one of the largest. The show in the air is unbeatable, with performances that sometimes include all three top aerobatic jet teams: the Blue Angels, Thunderbirds and Canadian Snowbirds. Dayton, Ohio, is also the site of many aviation attractions because it's the home of Orville and Wilbur Wright. Visit
www.daytonairshow.com
.
17
]
Join The Young Eagles
. The Young Eagles program was created by the Experimental Aircraft Association with the goal of giving youth a no-cost flying experience in a GA airplane. To date, millions of kids have been flown across the nation. You only need to be a private pilot to share the magic of flight with kids who are aviation's future. Visit
www.youngeagles.org
.
18
]
Fly Inverted.
Tutima Academy is home to some of the best aerobatic pilots around, including founder and Oracle air show pilot, Sean D. Tucker. When you want to take your skills to the next level in every sense, aerobatics is the way to do it. Giving you confidence and increased stick-and-rudder skills, aerobatics training is done gradually to acclimate pilots to the sights and sensations involved in the sport. Visit
www.tutimaacademy.com
.
19
]
Earn Your A&P License.
There's no better way to learn about your airplane than to maintain it. Becoming an FAA-certified airframe and powerplant mechanic can be done in a relatively short time, with many community and technical colleges offering courses. It's a useful add-on for any pilot. Though not a comprehensive listing, the "Best Aviation" site features a directory of maintenance-certification schools in different areas. Go to
www.bestaviation.net/aircraft_maintenance_schools
.
20
]
Make A Sentimental Journey.
Each year, a pilgrimage happens to the William Piper Memorial Airport (known as "Cub Haven") in Lock Haven, Pa. If you love classic Piper aircraft (and who doesn't?), this four-day fly-in is a must. Going for 26 years now, the fly-in has become an aviation ritual. Also, about four times a year, the Sentimental Journey group sponsors a weekend pancake breakfast, fly-in and drive-in. Visit
www.sentimentaljourneyfly-in.com
.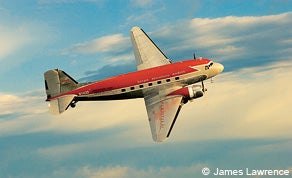 21

Fly Get A DC-3 Type Rating
21
]
Get A DC-3 Type Rating.
With fewer and fewer of these aircraft still flying regularly, the dream to pilot one is becoming more elusive. For many of us, flying a DC-3 from the left seat is one of the first items on the bucket list. Lucky for us, flight training in the DC-3 is still available. Dan Gryder runs a DC-3 flight-training operation out of Georgia, with a multitude of options from simple flights to full PIC, left-seat type ratings. Visit
www.thedc-3network.com
.
22
]
Visit An Airpark
. One of the most postcard-worthy airparks in the West is Alpine. Nestled on the shores of Palisades Lake, Wyo., Alpine is home to a community of Husky aircraft (among others) and backcountry pilots. Alpine is the perfect place to launch from for whitewater rafting, big-game hunting, fishing or flying among the most beautiful mountains in the world. Alpine hosts a summer air show, grass and paved runways, and luxurious log homes. And it's all just 35 minutes from Jackson Hole, Wyo. Visit
www.alpineairpark.com
.
23
]
Fly A P-51 Mustang.
If the famed P-51 Mustang makes your heart skip a beat, then you need to make your way to Stallion 51 in Kissimmee, Fla. They specialize in the legendary P-51, and offer orientation and training flights in the two-seat, dual-control version of the fighter, known as the TF-51. Visit
www.stallion51.com
.
Page 3 of 4
Labels:
Aviation History
,
Aviation News
,
Cross-Country Travel
,
Features
,
Floatplanes
,
People and Places
,
Photography
,
Pilot Guide
,
Pilot Resources
,
Aviation Photography
,
Air Shows
,
Backcountry Flying
,
Adventure Aircraft
,
Aircraft Ownership