Friday, July 1, 2005
60 Years After
General Paul Tibbets and Enola Gay navigator Dutch Van Kirk look back on one of the most famous moments in history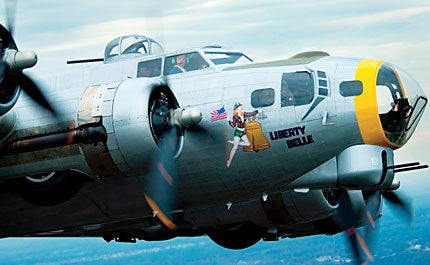 Paul Tibbets joined the Army Air Corps at Fort Thomas, Ky., in 1937. In 1942, Tibbets joined the 97th Bomb Group in the Bolero Mission, ferrying B-17s, P-38s and C-47s from Bangor, Maine, across Greenland and Iceland to the European Theatre. He flew the B-17 Flying Fortress with the 340th Bomb Squadron Bombardment Group in Europe and later flew missions to support the Allied invasion of North Africa. In 1943, just six years after he learned to fly, Tibbets returned to the United States to become one of the few people in the world to be briefed on one of America's most highly guarded secrets—the Manhattan Project, led by nuclear scientist Robert Oppen-heimer. In August of 1945, Tibbets would fly the B-29 Super-fortress named after his mother,
Enola Gay
, to drop the world's first atomic bomb on Hiroshima, Japan. On August 10, the Japanese surrendered unconditionally, and World War II was over.
This past winter, Paul Tibbets turned 90 years old. Aviation entrepreneur Pat Epps invited Tibbets to Atlanta for a surprise reunion with surviving crewmembers of his B-17, the
Red Gremlin
, and his B-29, the
Enola Gay
. During the day, members of the Tibbets crew rode in the
Liberty Belle
, one of only 14 of the 12,000 B-17s manufactured that's currently flying. She was joined by
Glacier Girl
, a P-38 recovered from more than 260 feet of Arctic ice in Greenland and a restored C-47 in formation flights around Atlanta. Before the flight, Gen. Paul Tibbets and Dutch Van Kirk, navigator for both the
Red Gremlin
and the
Enola Gay
, took a moment to look back at their unique flying careers.
Theodore "Dutch" Van Kirk:
When we were in Africa, Paul Tibbets got the idea we could cook chickens in the empty five-gallon gasoline cans. Paul went to work, and pretty soon, we were eating chicken every day instead of K-rations, which was a wonderful thing, especially with that gasoline garnish he put in there! This went on for a while, and we were running out of money because these Arabs were robbing us blind. So one of our guys named Sanders told the Arabs that if they'd give us all the chickens for free, he'd give them the B-17 for a chicken coop. So every night, we had a bunch of chickens in the bomb bay. Then we had to leave to go to a new base, and as we took off, we still had all their chickens. We were waving goodbye to all those Arab farmers that we had robbed and they were all shaking their fists at us....

Willy Titsworth was our gunner. His major claim to shame was that he peed on a general who later became the U.S. president. We were flying down from Europe to North Africa in the B-17. Eisenhower and his staff was on our airplane. Paul Tibbets was flying. Willy had to use the relief tube, but it wasn't working properly. Eisenhower was just standing in the wrong place at the wrong time.
Page 1 of 3