Tuesday, January 22, 2013
A Visit With Aspen Avionics
Revolutionary avionics in a culture of entrepreneurship, innovation and industry collaboration
On a vast mesa west of Albuquerque, N.M., where the signs of civilization begin to dim, the terrain looks not unlike the surface of Mars. In fact, if you took a photograph with the ancient volcanic cones and red dirt in the background, it could pass as something NASA's Curiosity rover just shot of the Martian landscape.
Double Eagle II Airport (AEG) is out here, and it's where Aspen Avionics does flight-testing of its revolutionary electronic flight information systems (EFIS). I'm here to see how Aspen operates, and to see what these brilliant minds are working on next, to see where avionics may be going in the future.
Aspen has always behaved like a start-up operation—a trait they proudly cultivate to this day. Founded in 2004 by former employees of Eclipse Aviation (who manufactured the Eclipse 500, one of the very first very light jets), Aspen Avionics set out to create advanced avionics that could be retrofitted into legacy cockpits at an affordable price.
Funded heavily by venture capital, the company's first success was in 2005 with their AT300 Hazard Awareness Display, vertical speed indicator (VSI) and terrain avoidance system. The company grew quickly, launching their flagship product in 2007, the popular Evolution EFD1000, "drop-in" glass cockpit.
The EFD1000 revolutionized the GA cockpit in many ways. First, retrofitting the unit into a "steam gauge" panel was a simple task. The unit literally slides into a standard three-inch instrument slot.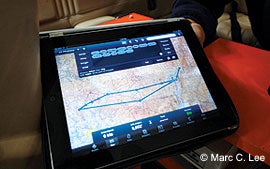 Connected Pilot users can create or modify flight plans—even adding waypoints— from smart devices like the iPad, then load them into the GPS wirelessly.
Buyers were attracted to the unit's relative affordability (as avionics go), and especially to the EFD's unprecedented contributions to cockpit awareness. It packed a lot into a small space.
Best of all, the unit could be added to an aircraft in separate MFD "modules," which gave the Evolution system something of a modular, "Lego-block" feel. It beautifully replaced steam gauges and added a whole lot more, without having to butcher the panel and rewire the aircraft.
Today, with more than 5,500 aircraft installations globally, Aspen Avionics' EFD1000 has become a standard-bearer in the industry.
Desert Evolution
Aspen's headquarters is a nondescript business park within the environs of metropolitan Albuquerque. Dominated by the massive Sandia Mountains to the northeast, the city has been on the fringes of scientific development since the nearby Sandia Base was established in 1946 as the top-secret center of the Manhattan Project—the United States' development of nuclear weapons.
Page 1 of 5