Tuesday, January 22, 2013
A Visit With Aspen Avionics
Revolutionary avionics in a culture of entrepreneurship, innovation and industry collaboration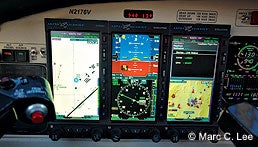 The upper right of the display shows the system connecting to the backbone of Aspen's "Connected Panel" product—the CG100 wireless module.
Aspen chose this location for the dry desert climate and 3,420 hours of sunny flying days per year it offers. Although the headquarters office buzzes with activity, the really interesting stuff—the flying—happens at Double Eagle Airport.
Aspen has a small facility at Double Eagle. It's all in keeping with the company's start-up culture. There are no gleaming laboratories or complex research facilities anywhere in sight. Driving up to the large hangar, the only sounds you hear are tumbleweeds brushing the chain-link fence and the distant calls of coyotes and buzzards. It's the perfect place to test avionics.
"Hi! Nice to meet you!" says Tom Gray, with more enthusiasm than should be allowed this early in the day. Gray puts out his hand and I'm welcomed into Aspen's inner world. Their hangar is quiet this morning in anticipation of our test flight.
Gray is one of Aspen's test pilots and engineering representatives, and he's responsible for running their constantly evolving products through real-world flying scenarios.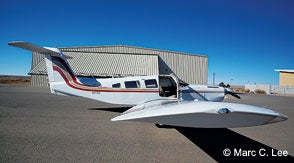 Aspen utilizes a specially equipped Piper Lance to test many of its avionics products.
Gray is also an active flight instructor—something he does for the pure enjoyment of it—and he speaks and flies with the calm demeanor of someone who has spent a lot of time in the air. The Aspen product, I learn, is constantly being improved and tweaked to yield the absolute best performance, accuracy and features. Aspen functions as a true team environment, with technical specialists intermingling with aviators to create a synergistic whole.
Right next to Gray is Juan Escobedo, Senior Aircraft and Avionics Technologist. Although Escobedo isn't a pilot, he's a genius at integrating Aspen's technical features into the cockpit environment, and spends almost as much time in the air as Gray does.
He's also an expert in the FAA's certification quagmire, and knows what the feds expect and how to test components to meet their exacting standards. Escobedo will accompany us this day as we wring out some of Aspen's newest goodies in their specially modified Piper Lance.
Flying Connected
The Lance is one of several test beds for Aspen's products. It has a custom panel that's modified for the task of testing avionics. It's configured so components can be added, removed, selected and mixed in various combinations. To my musician mind, the panel reminds me of the patch bays used in recording studios, allowing the engineer to select a certain component or bypass it in favor of another, or to run several at once.
Page 2 of 5