Tuesday, January 22, 2013
A Visit With Aspen Avionics
Revolutionary avionics in a culture of entrepreneurship, innovation and industry collaboration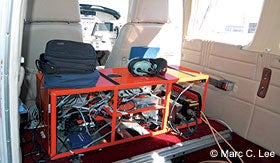 An electronics bay takes up the second row of seats in the Lance. The rack includes components used to calibrate and accurately test avionics.
The Piper is equipped with a large electronics rack replacing the entire second row of seats. It contains different types of test equipment, power supplies, radar altimeters, sensors, and other outboard components.
Lately, Aspen has been refining their new Connected Panel product. Connected is one of the new technologies I'm here to see. Connected Pilot is the first in the series of the company's revolutionary Connected Panel product line. What it does is provide a secure wireless link between panel-mounted avionics, like GPS navigators, with portable smart devices like Apple's iPad.
If that didn't grab you, you need to step back and realize what this technology means. First, Connected Pilot is able to receive data from almost any panel-mounted GPS navigator. If you use the popular Garmin GNS 400W/500W series navigators (like the ubiquitous Garmin 430W), Connected Pilot lets you enter and synchronize flight plans between it, a smart portable device (like an iPad) and flight planning apps that are "Connected-enabled."
The technology creates a wireless link that allows your smart device to communicate with your Aspen Evolution Flight Display and your avionics network. You can create a flight plan at home on your iPad in an app like ForeFlight, WingX or others, then wirelessly upload that to your Garmin 430W, and then fly it with your Aspen display. Afterward, you could wirelessly retrieve the trip's flight data and process it in the comfort of your easy chair.
I got to see the power of Connected in action during a flight in the Lance. Gray set up a flight plan on his iPad while in the hangar. Once in the airplane, Gray showed me how—at the press of a single button—his iPad connects securely (with encryption) to the Lance's Garmin 430W and feeds it the multiple-waypoint flight plan. I accept the flight plan by pressing a button on the 430W. Instantly, the Evolution display changes, and the whole plan is loaded. Total elapsed time: maybe three seconds.

Even more impressive is the wireless connection. Once in the air with the autopilot flying the plan, Gray hands the iPad to Escobedo, sitting in the back row of the Lance. Escobedo modifies our flight plan by adding a waypoint. In seconds, I receive the prompt to accept or reject his flight plan update, and after pressing the acknowledgement, I feel the Lance banking as the autopilot follows the newly loaded plan. It was true "backseat flying." Other than a button press, I never touched the panel or controls.
Page 3 of 5