Tuesday, January 22, 2013
A Visit With Aspen Avionics
Revolutionary avionics in a culture of entrepreneurship, innovation and industry collaboration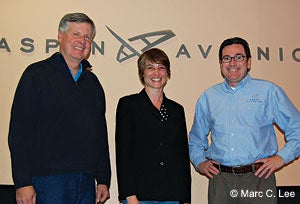 Aspen President and CEO, John Uczekaj, with Angela Anderson and Brad Hayden from the company's marketing team
Aspen pays attention to even small details, like sourcing many of the Evolution display's parts to local manufacturers. The company's size allows them to react to changing needs quickly.
Recently they decided to completely revamp their production assembly line for efficiency. Where such a process could take months or more for most companies, Aspen Avionics did it over a few days. "We have to innovate constantly to stay in the game," adds Hayden. "Our entire culture is built around supporting the customer."
As to the future, a recent infusion of venture capital funding will allow Aspen Avionics to continue their innovating trend. Hayden hints to greater integration and unprecedented capabilities in their avionics systems. Aspen's Connected Panel product will continue to evolve, allowing secure, wireless communication to and from more devices. "We have big stuff coming," Hayden tells me. "We will introduce products that use the aviation data stream that we uncovered with the Connected product, and expand it in many ways." Judging from the flight testing out at Double Eagle, the future for pilots is exciting.
Hayden, Gray and everyone I meet at Aspen speak to the power of collaborating and listening to the company's large customer base. "If you see something you feel needs improvement, let us know right away," I hear in every corner of the company.
Although a lot of companies listen to their customers, Aspen does it with a sense of zeal and immediacy. Also, working together with their competitors has become a way of life at Aspen. "Our displays have become smart devices, and we want them to become even smarter," Hayden finishes. "And we welcome any conversation with other manufacturers."
Aspen Avionics' "secret" is really no secret at all. They listen closely to pilots at the grassroots level, and create products for them that make flying safer and easier. Their enthusiastic collaboration with others is giving GA—and soon the rotorcraft and military world—some great products.
Just as physicist Isaac Newton promoted nature's simplicity, Aspen Avionics' test pilot Tom Gray reveals theirs: "What we do is take all that data from GPS, autopilots, sensors and electronics," he smiles, "and make it relevant to the pilot."
Page 5 of 5