Wednesday, July 24, 2013
A Visit With Richard Bach
The author of Jonathan Livingston Seagull shares his love of flying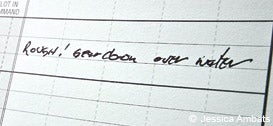 A notation in Richard's logbook (above) recalls a hydraulic leak in his aircraft's gear system that led him to fly the amphibian with gear down over water, an unusual configuration for a seaplane pilot. Strong winds compounded the situation.
What audience do you write for?
I write for myself. I'll find an idea that's fascinating to me and figure out what vocabulary I have to speak of it. Much of my experience is flying; lots of my characters fly or know about flying. With JLS I did my best to communicate a story that made sense to me. I thought only fliers would understand it—wrong! I was stunned when nonfliers said they really enjoyed the book, and I wasn't prepared to be number one on the bestseller list. There was a lot of ridicule as well, but I didn't care that much. The Jonathan Seagull that I know is very important; I love that little character. I see him as someone who loved to fly, and from his flying, learned certain truths.
I'll always have a warm place in my heart for fliers—I understand them and they understand me. There's a sense of family when I'm at an airport. I don't have to say "hi" or wave, but I feel a connection with someone way down the line who's getting out of their amphibian, Twin Beech or Cessna 172. That person has had to meet certain requirements, and every time they push the throttle forward for takeoff, it requires a little bit of courage: "I know the engine may quit but I'm going to do it anyway because I'm skilled enough and I trust myself to put this airplane down safely." I like that kind of person. I like that person that I see in myself; I'm part of that family too.
What's your perfect airplane?
The ideal is a mix of many planes, but if I could only have one airplane in my life, I'd probably have a J-3 Cub. It would have an 85 hp engine, wing tanks and floats. A Piper Cub is the gentle, humble little siren of airplanes. It says, "I'm the epitome of low-speed, low-altitude and land-anywhere aircraft." I reply, "Now that's being a little self-important, Ms. J-3. What about an ultralight who can go slower and lower?" But she shakes her head and dismisses them. "I'm a J-3 Cub." There's so much class there; I love the Cub.
Much of your literature is about barnstorming. Does that kind of flying still exist?
Absolutely. No question about it. When I was doing it a lot I could survive on $3 a ride. I could buy gas and oil and hamburgers. Ideally today, I'd like to do it for $2, as a sign that I want the ride to be of value. Now whether I could survive…I don't know. All through the Midwest you can almost always find places to land; my rides are out of farm fields close to a small town. If the farmer has just cut the hay—it's brown from the air—then there's a kind of ingenuousness about landing your little airplane in a field that's so innocent and so trusting.
Page 2 of 4