Tuesday, May 21, 2013
Africa Adventure
A journey of two Super Cubs through Kenya, Tanzania, Mozambique and Malawi
It all started back in Kenya, spending countless hours sorting out the authorizations that are required to undertake a trip through Africa. It was a nightmare! In hindsight, we should have started obtaining them months in advance, not weeks. So much paperwork was required—license validations, over-flight permits, landing permits, maintenance certificates—some of which didn't even exist in Kenya, yet we still had to come up with them. We also had to ensure that avgas was available at our planned destinations. This availability, for a large part, dictated our route.
Two days before our departure, the trip almost got cancelled as we were still waiting on some flight permits to be approved. The very morning we were leaving, all the paperwork finally came through! We were still unsure as to fuel availability in one crucial location in Mozambique. They had the fuel, but the pump was broken. It was planned to be fixed, but when? We decided to push on, and figure it out as we went along.
On the 24th of January, our two Piper Super Cubs left their home base in northern Kenya to clear customs in Nairobi. Loni Habersetzer, a highly experienced bush pilot who works in Alaska, was at the controls of one airplane, and I flew the other. Loni has accumulated more than 10,000 hours flying Super Cubs. His flying skills became famous after making some videos such as Big Rocks, Long Props and the Cubdriver series (www.cubdriver749er.com). He also gives instruction on bush flying to owners of Super Cubs and similar bush planes. I'm a conservationist living and working on a wildlife sanctuary in Kenya, where these airplanes are most often used as security tools in our fight against poaching.
In Nairobi, we were to join up with the third member of our trip, Alexis Peltier, a French pilot/photographer who has been living in Kenya for more than 20 years. He has accumulated 8,000 hours in all kinds of flying contraptions. Today, he offers flying safaris in Kenya with either a Cessna 206 or a Leza-Lockwood Aircam, and soon he'll also be offering flying safaris in a Piper Super Cub (
www.air-adventures.fr
).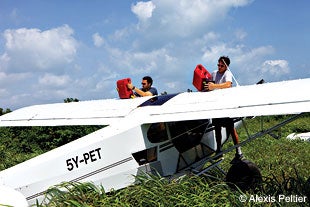 Topping off our fuel tanks before departing Vamizi Island.
Tanzania
After finishing the necessary paperwork at Nairobi's Wilson Airport, we packed up the Cubs and took off with a planned destination of Zanzibar, an island off the coast of Tanzania. Rather than flying direct, we opted to join the coastline in southern Kenya and follow it until we reached the island.
We spent only one night there and didn't have much time to visit. Our intended destination was the coast of Mozambique, and this was just a layover for the night. Also, Zanzibar isn't the friendliest place to fly, as local flight permits are very difficult to obtain, and most likely would require to have a government official onboard the plane with us.
We cleared all the legal requirements in Zanzibar, which took a couple hours as they tried to slap a few "additional fees" on us. While Loni and I topped off the fuel tanks and jerry cans, Alexis negotiated the fees. We had planned our next fuel stop to be Pemba, in Mozambique. This was precisely the location where the pump had broken down. We needed enough fuel to get there and back in case we were unable to obtain some locally.
Page 1 of 5