Tuesday, May 21, 2013
Africa Adventure
A journey of two Super Cubs through Kenya, Tanzania, Mozambique and Malawi
Mozambique
We were on our way to Mozambique— uncharted territory for the three of us. There's something special about discovering a place for the very first time, never knowing what you might see next.
We were headed to an island called Vamizi in the north of the country, but first had to clear customs at a port of entry, Mocimboa de Praia. We followed the entire Tanzanian coastline into Mozambique. Beautiful and deserted beaches accompanied us the entire stretch. On the way, we landed on a few beaches to take a break and have a picnic.
We arrived at Mocimboa de Praia, where we cleared customs and immigration. Mozambique was previously a Portuguese colony, and it was quite a contrast to hear people speak Portuguese, rather than the English or Swahili we're familiar with in Kenya and Tanzania. Customs here were pleasant and quick. About an hour and a half later, we were airborne and heading to Vamizi Island, a short 20-minute flight back north. We landed at sunset, and then drove about an hour to the place we were staying at on the beach.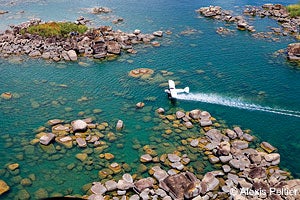 Loni waterskis the Super Cub between rocks on Lake Malawi.
We spent four days here. Every day, we would call to get updates on the status of the fuel pump being fixed in Pemba. Without additional fuel, we didn't have enough to make it to our next destination in Malawi. Luck had it that the lodge we were staying at had a Cessna Caravan, with a flight planned to Dar es Salaam in Tanzania. Even though the pilot wasn't too thrilled about carrying jerry cans on board, he felt compelled to help out fellow aviators and brought us the additional fuel we needed to push on. The day before our departure from Vamizi Island, we got confirmation that the fuel pump had been fixed in Pemba, but by then we already had all the fuel we needed.
We left on the 29th of January. First, we cleared customs at Pemba. We must have surprised the pump attendants as we'd been hassling them for two weeks to find out about fuel availability and ended up getting nothing from them.
We then proceeded on one of the longest legs of our trip, all the way to Lilongwe, Malawi's capital and largest international airport. On the way, we flew through some amazing landscapes. Enormous rock pinnacles towered around us and broke the horizon everywhere we looked. We all wished we could have had more fuel, more time and more daylight. We were only able to have a brief glimpse of this fascinating landscape, but vowed to return someday and indulge in it a bit more.
Page 2 of 5