Tuesday, May 21, 2013
Africa Adventure
A journey of two Super Cubs through Kenya, Tanzania, Mozambique and Malawi
Malawi
We landed at Lilongwe to clear customs and get fuel. This was a nice airport: well-maintained, the fuel was delivered to the plane, and the officials were friendly and accommodating. Our small Super Cubs felt slightly out of place parked next to the 747s going in and out.
Our final destination for the day was Likoma Island on Lake Malawi. We landed just before sunset. It had been a long day, having flown about eight hours. We were happy to get to the camp, dump all our stuff, take a shower and grab a beer. While we enjoyed a good meal, we marveled over all the sights we had seen on the flight over.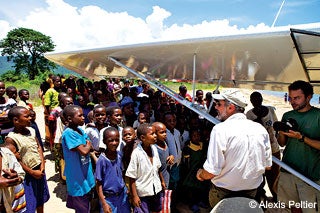 On the shores of Lake Malawi, a crowd of children gathered under the shade of the wing and started singing with Alexis.
We spent three nights on the island. Every day, we flew along the lake and managed to cover its entire shoreline. Lake Malawi, also known as Lake Nyasa, is 360 miles long and joins three countries—Tanzania, Mozambique and Malawi. It's the third largest lake in Africa. Its crystal-clear waters are home to a wide diversity of fish. In fact, it's reportedly the habitat of more species of fish than any other body of freshwater on earth, including more than 1,000 species of cichlids. The shorelines were a mixture of sandy beaches and granite rock formations with lush vegetation on the hills surrounding the lake. It was very populated, and so it was difficult to find isolated beaches where we could land without disturbing anyone. Even when we did find some, it wouldn't last very long as within a matter of minutes we would attract quite a crowd under the wing.
One of the most dramatic sights on the lake was the northeastern region. The mountains came right down to the shoreline, and a little peek into them revealed chocolate-colored rivers, deep gorges and sheer rock cliffs. The cubs danced around in the midst of this magical setting.
At this point, flying resembles more of an art form rather than a method of transport. The feeling that you get flying through these landscapes is hard to describe; your body feels a mixture of goose bumps, adrenaline, freedom and awe. You're so very awake and alive, thankful of having the privilege of witnessing this magical setting from a very unique perspective.
Back to Tanzania
The day prior to leaving Malawi, we had topped off our fuel at Lilongwe, and had organized to clear customs at Karonga, a small airport on the northwest side of the lake. The same usual story took place as they tried to invent some "extra fees," which we had to negotiate our way through. We did a relatively good job, and it only took about an hour on the ground before we headed to Mbeya, our port of entry into Tanzania.
I've flown a few times in Tanzania, and have always found the officials to be friendly and helpful, but landing at Mbeya proved to be a different experience. This was by far the most difficult stop we had during the trip.
Mbeya is a small international airport, a grass strip in the middle of a huge town. We seemed to be their only "customers" that day, and the officials were determined to give us a hard time and almost refused us entry to the country, as we refused to bribe them.
Page 3 of 5