Tuesday, May 26, 2009
Air Show Roundup: Sun 'n Fun 2009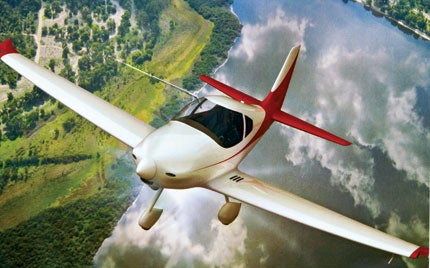 Epic Aircraft, known for high-tech VLJ and turboprop designs, has an LSA project in the works. Called Focus, the carbon-fiber, two-seat airframe will be available in three configurations. The LSA's all-up weight of 1,320 pounds will include a 615-pound useful load, 40-knot stall speed (full flaps), 115-knot cruise at 75% power and 1,050-mile range (34 gallons with 30-minute reserve).
In spite of lighter attendance than last year, the 2009 EAA Sun 'n Fun Fly-In drew an enthusiastic crowd to Lakeland, Fla., for the week's festivities.
Hot, windy but clear skies showed off aviation vendors in their best light.
Present were major producers such as Cessna, Piper, Hawker Beechcraft, Garmin and Cirrus, as well as more LSA companies than expected in the economically challenged market.
Many LSA vendors reported fewer, but more serious, shoppers. Evektor, Legend Cub and Flight Design, among others, reported strong and encouraging at-show sales.

Piper Jet


Phenom 100
The Phenom 100 was open for inspection after it was announced that the VLJ passed the European Aviation Safety Agency (EASA) certification process. The Phenom is already FAA-certified, and 12 have been delivered so far in the United States. Piper CEO Jim Bass described the Piper Jet's "significant progress" en route to FAA certification: "We've installed landing-gear doors, the pressurization system and a state-of-the-art data-acquisition system...[to] verify the high-altitude performance." Bass stated his confidence that the VLJ will meet or exceed all of its stated design goals.
Page 1 of 3