Tuesday, May 26, 2009
Air Show Roundup: Sun 'n Fun 2009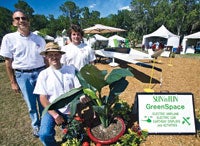 ElectraFlyer-C
Randall Fishman's electric airplane, the ElectraFlyer-C, a modified, amateur-built Moni motorglider, was the centerpiece of the EAA's first-ever Earth Day exhibit and activity display. Also prominent in the "green" mini-mall were displays of a hybrid Ford Fusion and booths offering information on composting, natural eating, hydroponic gardening and the Lindbergh Foundation, which funds grants for environmental aviation programs.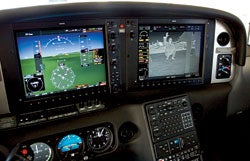 Cirrus EVS Infrared Vision Display
Cirrus showed off its cockpit installation of the Perspective EVS, incorporating the Max-Viz EVS-600 to complement and augment its Garmin Synthetic Vision Technology. It's a multi-sensor system that blends visible and infrared light for day and night flight environments where full vision is compromised by weather, clouds or night. The certified display is available for all Cirrus SR20, SR22 and Turbo aircraft.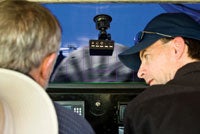 VirtualHUD
William J. Steele's revolutionary VirtualHUD (Heads Up Display) allows a pilot to see flight display information projected onto the reflective strip–lined backside of a spinning propeller. The ingenious device projects all standard flight information for normal VFR and IFR navigation, day or night. Infrared NightVU also is possible.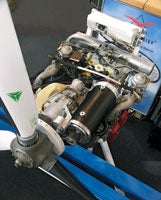 Hybrid Engine
LSA maker Flight Design GmbH of Germany is in advanced development on a new hybrid aircraft engine that weds a Rotax 914 turbocharged engine to a 40 hp, 30-kilowatt electric motor. The electric powerplant joins to the prop hub with a V-belt and will be used for takeoff and climb only. Lithium-ion batteries power the electric mill. Expect flight-testing later this year. One safety bonus: If the gas engine should fail, the electric motor will extend a typical light airplane's glide ratio from 10:1 to as high as 30:1.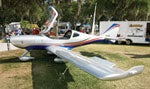 Arion Lightning S-LSA
The sleek, amateur-built, composite Arion Lightning S-LSA that has caught many an eye at air shows is now ASTM-approved. To conform its performance to the light-sport rule, droop flaps, aileron wingtips, a different airfoil, a larger prop, "draggier" gear-leg fairings and 3.5 inches more wingspan were incorporated. Also notable: the under-$100,000 price tag.
Page 2 of 3