Tuesday, May 26, 2009
Air Show Roundup: Sun 'n Fun 2009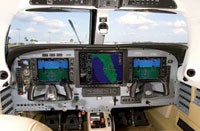 Piper Meridian With Garmin G1000
Piper CEO Jim Bass introduced the new G1000 installation in its Meridian turboprop as a system so perfectly harmonized with the airplane's mission profile that it "performs more like a business jet than a personal airplane." The system includes 10.4-inch PFD and 15-inch MFD EFIS screens (with another right-seat PFD as an option), an audio panel and a console-mounted keypad for convenient remote operation of the screens.


Legend Cub
American Legend announced an addition to the Legend Cub panel options: the big (seven-inch-diagonal) Garmin GPSMAP 696 display. The company also offered its "Aeronomic Stimulus" program at the show, promising to price its next five LSA sales at $99,895.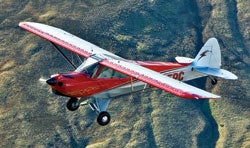 Super Sport Cub
CubCrafters introduced the Super Sport Cub, a remake of the revered Piper Cub. Key to the dramatic performance of the bird (climb rate: 2,100 fpm!) is its electronic ignition, high-compression CC340 engine. Of note is the engine's 180 hp rating for takeoff and climb, and 80 hp rating for sustained cruise, which delivers 5 gph performance.
Page 3 of 3