Tuesday, February 25, 2014
Alaska Adventure
With proper planning, a dream trip to the northernmost state is easier than you think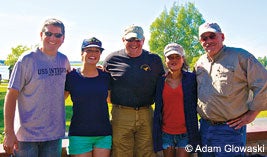 Meeting Ariel and Ayla Tweto of Flying Wild Alaska.
F Street is the airline-crew hangout in Anchorage. We were welcomed by a lovely waitress named Laura, who kept the Alaskan Amber flowing as we feasted on our halibut. I was wearing a warbird museum shirt, and Laura mentioned that she had an uncle who had flown a P-51 Mustang. I boisterously replied, "Who is that? I probably know him." She said, "Don Hinz." I nearly collapsed. Hinz was the leader of the Commemorative Air Force Red Tail Squadron, and we had worked together for years to get the Red Tailed P-51C "Tuskegee Airmen" flying. In 2004, Hinz was flying the Mustang when the engine failed. He landed, hit a tree and died soon after. It was chilling, but we had a great time telling stories and remembering her uncle and my friend.
Blessed By The Weather
Just north of Anchorage is a little town called Talkeetna, which is the gateway to Denali, "The High One." The mountain is almost always shrouded in clouds, but the weather was beautiful, so we decided to fly up and have a look. The peak was visible from Anchorage, and as we flew north, it just kept getting bigger. We landed and got the 411 on where to fly and how to avoid the charter ski-plane operations. We climbed up to 8,000 feet and flew up Ruth Glacier, high above the charter flight landing area, and returned down the Tokistina Glacier. We paused to consider that a wrong turn in marginal weather up one of the canyons would mean a certain crash and likely death. In the clear skies and unlimited visibility, it was effortless.
Down The Coast
The prog charts looked favorable for a return along the Pacific Coast, so we started for home. Heading southeast from Anchorage, Mount Saint Elias reaches 18,009 feet high, and the Pacific Ocean reaches 2,400 nm southwest to Hawaii. It was another emotional realization of our relative insignificance.
The first stop was Yakutat, where the sign on the FBO/Restaurant/Saloon says, "Food, Fuel, Shelter, Booze"—everything needed for survival in the wilderness. We took stock of two of the four items and headed south.
From Yakutat south are several hundred miles of endless glaciers dumping millions of tons of ice into melting pools that flow down impressive waterfalls into the ocean. Even from an airplane, the shear faces of the calving glaciers are hard to comprehend.
Page 4 of 5