Tuesday, February 25, 2014
Alaska Adventure
With proper planning, a dream trip to the northernmost state is easier than you think
Farther south, the glaciers give way to inlets and fjords where numerous fishing communities live on the bounty of the sea. The flying is easy if the weather is good, and the beauty of the ever-changing scenery never ends.
The Last Stop
The Ketchikan International Airport is located on an island along an inland passage. The city is on the mainland, and a ferry connects the two. Ketchikan is within comfortable range of the U.S. mainland in the Baron, and that allows skipping Customs clearance in both Canada and the U.S. The Canadian coastline and islands are picturesque, but airports and off-airport landing sites are scarce. There's a lot of comfort in a second Continental on the Baron!
We landed back in the Lower 48 at Bellingham, Wash. Our trip was 6,000 nm and 40 hours in the Baron. We burned almost 1,000 gallons of 100LL, achieved most of our trip goals, and just like Seward's Folly, it was a bargain.
Doug Rozendaal is an ATP, CFII, MEI and Designated Pilot Examiner with ratings in WWII bombers, transports, fighters and some bizjets. He holds a surface-level aerobatic waiver in eight different types, and flies air shows for the Commemorative Air Force, Texas Flying Legends and others. This trip was his fifth to Alaska: three times in a B-25 and twice in the Baron.
Beechcraft Baron, The Perfect Bush Plane?
All over Alaska, and now often in the Lower 48, Super Cubs, Huskys and hot-rod homebuilts with tundra tires are all the rage. Their tire size is exceeded only by their monstrous motors. They can take off and land on a dime and give back change.

Landing on gravel bars along a river or sand on the beach can be great fun, but there's risk involved with it, and in the wilderness of Alaska, a small incident can mean a night in the bush with the bears, or worse.

Those who live and fly regularly in the outback of Alaska and have a support system backing up these off-airport operations, can safely operate into, and out of, places that most of us from the Lower 48 wouldn't, or shouldn't, attempt.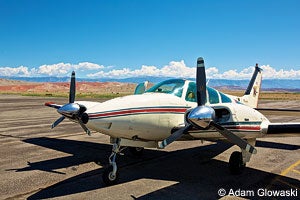 Much of Alaska is accessible using the many paved, grass or gravel strips scattered liberally across the state. Operating on a gravel runway in a light twin requires careful power application during taxi and takeoff, but can be done without propeller damage. And winter operations on snow-covered runways can cause problems with ice in the brakes or the wheel wells, but most of us won't be touring Alaska in the cold dark winter.

An excursion to a secluded lake by floatplane, or gravel-bar landing on a salmon stream, can be chartered in many cities or villages.

The security of a second IO-550 Continental on the Colemill-modified President II Baron, with power that will bring its cargo home from nearly any engine failure situation, is comforting to those accustomed to flying over civilization. For a flatlander from the Lower 48, that's a perfect bush plane!
Page 5 of 5