Tuesday, January 24, 2012
Amelia Earhart: A Modern Adventure
Seventy-five years on, a modern-day Earhart retraces the footsteps of a legend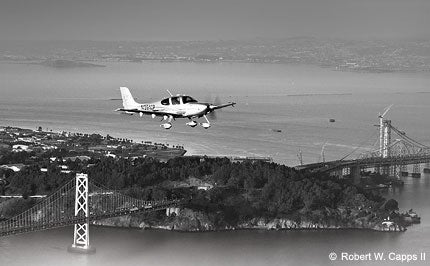 Amelia Rose Earhart and CFII John Post fly a Cirrus SR22 over Oakland's Bay Bridge in December 2011.
I have to admit it was a little disconcerting to answer the phone and hear, "Hi Marc, it's Amelia Earhart," knowing it wasn't my birthday or April Fool's Day. In fact, it really was Amelia—Amelia Rose Earhart—a distant relative and namesake of the original Earhart who vanished somewhere near Howland Island over seven decades ago. This contemporary Earhart is re-creating one of the legendary aviatrix's flights: the leg from Oakland, Calif., to Miami, Fla., where she announced her ill-fated, round-the-world attempt in 1937.
Our modern-day Amelia Earhart is making the flight in a turbo Cirrus SR22, which is a long leap from the Lockheed Model 10 Electra the historic Earhart used, but she's doing it to inspire others and show them that dreams can come true, and not to break any world records.
What's In A Name?
"My mom gave me this name because she wanted me to have a positive woman role model in my life," says Earhart about her moniker. She and the legendary Earhart share common ancestry on her father's side back in the 1700s. This is the only connection to the aviatrix, since neither of her parents are pilots. "They never pushed me into flying either," she adds.
Instead, this Earhart got tired of being asked by everyone if she was a pilot. "I saw the disappointed looks on their faces when I said I didn't fly," Earhart says, "So, I decided I was going to take flying lessons." That was when she was 18.
Earhart was born in Downey, Calif., and grew up in the tiny town of Phelan, on the shoulders of the San Gabriel Mountains. She ended up in Kansas, and went to college to be an English teacher. It was there that fate intervened and introduced her to flying through a boyfriend whose father owned a Cirrus. "I wasn't afraid the first time we flew," she says. "And from that time, the Cirrus became my dream plane." Earhart earned her private certificate in a Cessna 172, then completed Cirrus transition training in the SR20.

The iconic photo of Amelia Earhart and navigator Fred Noonan in a Lockheed Model 10 Electra prior to their first attempt to fly around the world in March 1937.
It seems fate meddled once again and landed Earhart a job in television. "I was an English major, but I was offered this incredible opportunity to do traffic reporting," recalls Earhart. She put in five years as an aerial reporter in Denver and Los Angeles, covering everything from traffic to wildfires, riding along in an A-Star helicopter. The gig led to another job with local NBC affiliate station, KUSA, in Denver—where she is today—along with getting close to finishing a broadcast meteorology degree at Mississippi State University.
An interesting by-product of Earhart's television job is that she gets to speak at local schools on a regular basis. Earhart is passionate about following dreams and making things happen in life, and it's this drive that gives her the chance to inspire students. "I talk about what it's like to have this name," she relates, "and how to follow your dreams and passions."
Until now, Earhart says she wanted to have something more that she could talk to students about. "It's sometimes hard to talk to these kids without having done something extraordinary." She combined that thought with her dream of flying around the world—a dream she hatched as a sophomore in college—and also with the lingering accomplishments of her namesake, to create a single, driving passion. The Oakland-to-Miami flight is only the first of what Earhart hopes will be many more adventures. "I want to show kids that you can do anything."
Page 1 of 3