Tuesday, January 24, 2012
Amelia Earhart: A Modern Adventure
Seventy-five years on, a modern-day Earhart retraces the footsteps of a legend
The Original Amelia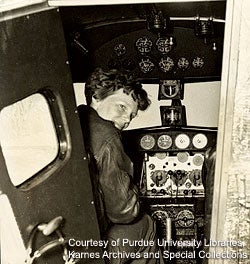 Amelia Earhart in the cockpit of her Lockheed Electra prior to its construction being finished, ca. 1936.

The original Amelia Mary Earhart was born July 27, 1897, in Atchison, Kan. Her family relocated to Long Beach, Calif., where she began flying lessons in 1921. Considered somewhat of a tomboy, Earhart crossed the Atlantic in 1928 as a passenger, becoming the first woman to do so and launching her notoriety. In 1932, she flew the route solo in her Lockheed Vega in 14 hours and 56 minutes, setting the solo record.

Earhart befriended Hollywood stunt pilot Paul Mantz, who became her technical advisor while she continued to set record after record. She was elected president of the Ninety-Nines, an organization of women pilots, and accepted an appointment from Purdue University to help finance her dream of becoming the first woman to fly around the world across the equator.

On May 20, 1937, Earhart and navigator Fred Noonan set out from Oakland, Calif., to Miami, Fla., in a Lockheed Model 10E Electra and announced their around-the-world attempt. After mechanical delays, the two finally launched from Miami on June 1, 1937, bound for Puerto Rico. After flying 29 days and 22,000 miles, they landed in Lae, New Guinea.

On July 1, Earhart and Noonan left Lae for the most dangerous leg of the trip, a 2,556-mile gauntlet to the tiny Howland Island in the Pacific Ocean. After much radio confusion and a storm, Earhart made her last radio transmission at 8:43 a.m. on July 2, 1937. It was received by a Coast Guard cutter, Itasca. The flight disappeared shortly afterward, and was never heard from again. No wreckage was ever found.
Page 3 of 3