Tuesday, June 24, 2014
Around The World
Air Journey escorts pilots on worldwide flying adventures for a high-end, hassle-free experience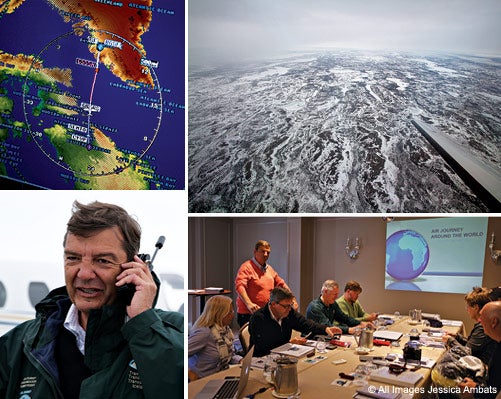 CLOCKWISE FROM TOP LEFT: Pilots are required to give a position report at GRIBBS when crossing the Atlantic Ocean. Descending into Kuujjuaq, Canada. Comprehensive pilot briefings take place the day before each flight. Thierry Pouille checks in with the home office via sat phone.
Today's journey is the fourth Around The World trip that Air Journey has escorted. Bill and Corinna Hettinger are flying their 1980 Citation ISP, which has a Sierra Eagle II conversion for better performance. Jimmy Hayes, retired president of Cox Enterprises, and Laura Azara, a pilot with Ascension Air, are in Jimmy's Pilatus PC-12 NG, with two of Jimmy's friends riding in the cabin. Laura, who trained at Embry-Riddle and used to fly regional airliners, is one of the youngest to fly around the world in a Pilatus. David and Betty Schlacter are in their TBM 850, a speedster turboprop. A Rockwell Twin Commander is flown by father-son team Brad and Scott Howard, who wind up on the receiving end of good-natured teasing about the haphazard "bachelor pad" clutter in their cabin. I'm flying with Thierry in his Citation Mustang on the first several legs until Reykjavik. Also in the Mustang is Parisian pilot Didier Cheutin, who'll continue with Thierry until London.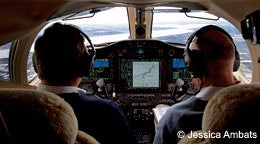 The Koksoak River comes into view on approach to Kuujjuaq.
That brings our current group to 13 people. Over the next 11 weeks however, there will be more than 30 people swaps, with friends and family joining for different portions of the trip. It's a complex mission that Air Journey is well-prepared for. Thierry stays in frequent contact with the Florida office via satellite phone, and his staff tracks the group via his Spidertracks device. If there are any weather issues en route, the office can offer tactical suggestions in real time, for example "Deviating to the right will keep you in the clear."
It's not just flight and travel logistics that need to be managed. Thierry and his team excel at working with all personalities. "It's a big undertaking to fly your own plane around the world," says Thierry. "Our job is to find out where our clients' weaknesses are and help them, even if they won't admit they need help." On this trip, we're in good shape. The group dynamics are lively and fully engaged.
The First Leg
Grey clouds and light rain fill the morning skies, and Thierry's weather rule dictates that go/no-go decisions will be determined by the lowest common denominator. Everyone needs to be comfortable for it to be a go. There's no point in pushing questionable conditions and causing stress. After evaluating weather charts, the consensus is that it looks doable.
Air Journey provides pilots with customized flight logs. Corinna and Bill Hettinger with their Citation jet.
Page 2 of 5