Tuesday, June 24, 2014
Around The World
Air Journey escorts pilots on worldwide flying adventures for a high-end, hassle-free experience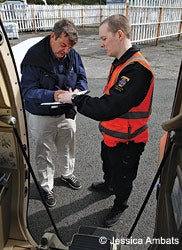 Thierry completes customs forms upon arrival at Reykjavik.
Across The Ice Sheet
The next morning, Thierry runs the standard briefing session, and we depart for Iceland. It will be 380 nm over the ice cap and 370 nm over the Atlantic.
We outclimb the clouds into the flight levels, but as we cruise east, it's unclear if the vast, flat whiteness we see below is still clouds or the ice sheet. Not much later, we spot mountains, then glaciers, frozen lakes and seas of massive icebergs.
The shore disappears from sight, and we're back over the ocean. It's time to make a position report with Iceland radio, and Thierry puts me to the task. "N15GJ. Over 65N 30W at 1343, Flight Level 370. Estimate GIMLI at 1357. Destination next BIRK." There's a running joke among the group that whoever messes up on the radio has to buy the first round of drinks that night. I'm in the clear, for now.
Iceland has a population of 325,000, two-thirds of which live in the capital city, Reykjavik. The main commercial airport is in Keflavik, a short distance from the capital, but we're headed for Reykjavik Airport (BIRK), the largest domestic airport. We fly the ILS for runway 19, and customs greets us on the ramp. Thierry handles all of the necessary documents, and there's nothing for the rest of us to do but hand over passports to be stamped and take in our new Nordic surroundings. The FBO arranges taxis, and minutes later, we're exploring downtown Reykjavik.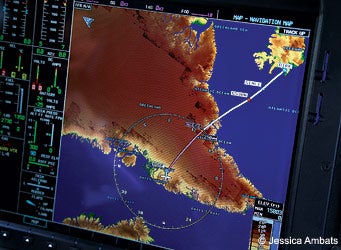 It will be 380 nm over the Greenland Ice Sheet and 370 nm over the Atlantic Ocean to Reykjavik, Iceland.
Air Journey trips are scheduled with a balance between flying days and ground activities. Iceland is a wonder of volcanoes, lava fields, waterfalls and glaciers deserving of exploration. Thierry has booked oversized "Super Jeeps" to tour attractions that include the Mid-Atlantic Ridge, where the boundary between the Eurasian and North American tectonic plates is visible, and the Blue Lagoon, a geothermal spa known for its 100-degree milky-blue water and swim-up bar.
It's here in the land of fire and ice that I part with the group. Their upcoming flights will take them through Europe, northern Africa, the Middle East, Asia and Russia before returning to the States via Alaska. As this goes to press, the five-ship has just touched down in the United Arab Emirates. "We have made it to Dubai!" Laura Azara posted online. "We flew right over downtown and the Palm Islands. What an amazing place."
Follow more Air Journey adventures at airjourney.com/blog.
Page 5 of 5