Tuesday, January 28, 2014
At Home With Bob Hoover
With more than 50 years in the cockpit, aviation's living legend talks about flying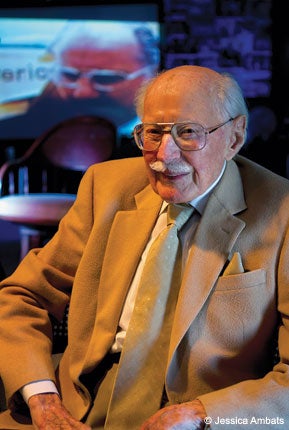 Legendary Bob Hoover was a USAF test pilot and an air show performer, known for his graceful energy management maneuvers. He's referred to in aviation circles as a "pilot's pilot."
It's not often you get to meet a legend. In aviation, most of our legends lived long ago, their exploits reduced to black-and-white photographs and dusty aircraft suspended from museum ceilings. But not Bob Hoover. At 92 years old, the man that both Chuck Yeager and Jimmy Doolittle called "the greatest stick-and-rudder pilot who ever lived," is very much alive and still inspiring pilots, even from the comfort of his own living room.
"Well, I'm very pleased to meet you," Hoover announces to me, offering his hand and beaming a warm smile. As I shake his hand, images of Hoover's canary-yellow P-51 Mustang flash through my head like a dream sequence from a movie. I see his famed "Shrike" Commander doing eight-point rolls in silence, with both engines feathered. I see his trademark straw hat, and I'm returned to an air show in 1978. All I can muster is, "I'm honored, sir."
We're in Hoover's study in his Southern California home. I'm surrounded by the tokens of a life well-lived. There on my left is the Distinguished Flying Cross and Aviation Pioneer Award; over my shoulder are the Lindbergh Medal, Aviation Hall of Fame award and the Purple Heart. If an aviation honor exists, Hoover has earned it, and it's humbling to know that the room I'm standing in has entertained the most notable aviation and space heroes of our time. There in front of me is the man himself.
It's a rare luxury to be nearly alone with Hoover. At all events, he's crowded by throngs of admirers, but today I'm one of only a handful of people in Hoover's home. Filmmaker Dan Birman is here with his crew to interview Hoover for a film Birman is making about the legendary aviator. It's a project that has been in the works for some time and is finally nearing completion.
Plane & Pilot
editor Jessica Ambats is also here, having known Hoover over the years. Today, Hoover will be watching archival footage of his flying career and providing commentary on camera for Birman's documentary.
"It looks like you guys are all set up," smiles Hoover as he emerges from his upstairs living area on a gorgeous Saturday morning. Though he isn't a frail man, 92 years is a long ride for anybody, and he moves slowly but with purpose. Hoover wears his years well and is charming. It's easy to see why he has had such an impact on people over the years.
Born in Tennessee, Robert A. "Bob" Hoover still carries a slight twang in his characteristic mid-pitch voice. He speaks with a certain cadence, emphasizing words at the end of a phrase. Hoover's engineering background is evident in his descriptions, and when he tells stories, he likes to give the aeronautical background first, so people can better understand each situation. He comes alive watching footage of flying, and it's plain to see he still loves aviation with all his being.
Page 1 of 3