Tuesday, January 28, 2014
At Home With Bob Hoover
With more than 50 years in the cockpit, aviation's living legend talks about flying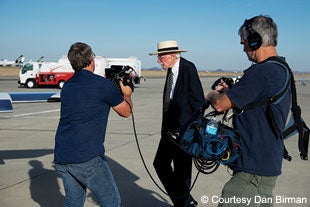 Filmmaker Dan Birman's crew captures Bob Hoover prior to a flight in a Sabreliner jet.
"I always flew for myself," reflects Hoover, as he watches footage of himself doing point rolls. Just 10 years ago, at the age of 82, Bob Hoover flew Barron Hilton's Extra 300 with a friend of theirs and filmed it. It was Hoover at the controls as he took the Extra through a series of precision maneuvers that would make any aerobatic pilot envious. "I didn't fly for the crowds. I just wanted to make each flight better than the last one; more precise."
The footage shows a remarkably calm Hoover putting the Extra through its paces. It was a man totally at home in an environment that's foreign to most people. On display was one of the traits that made Hoover such a "pilot's pilot"—the ease and calm with which he performed extraordinarily difficult maneuvers. "My goal was to perform every maneuver so smoothly that if a passenger were with me, they would feel like they were drinking tea in their living room," he says.
Never a boastful man, Hoover was an unlikely aviation hero. Tall and lanky, he never looked like the textbook "Fighter Pilot." His aversion to aerobatics is legendary, and his first forays into three-dimensional flying left him airsick and disoriented. "I used to get so uncomfortable even doing turns," Hoover relates. "So I would bank steeper and steeper until one day I thought, 'Well why not go all the way around!' And I kept doing it and doing it until I didn't get so sick anymore. But I had a hard time with it at first."
Of course, Bob Hoover went on to do just about everything you can do in aviation and then some. From barnstorming in old biplanes to dogfights over Europe in World War II to testing the latest supersonic jets, Hoover did it all. Most people don't know it was Bob Hoover flying chase in an F-84 next to Chuck Yeager's X-1 on that fateful day of October 14, 1947, when Yeager broke the sound barrier for the first time, and the gate to the space age was unlocked. In fact, Hoover took the very first photographs of the diamond-shaped shock waves behind the exhaust plume of the X-1 that President Harry Truman saw the next day.

These were smooth rolls and loops with one engine, then both engines, feathered. He'd land dead-stick and
roll to a stop.

During a break in Birman's filming schedule, Hoover sat down to a deli sandwich lunch with us and talked more about flying. I asked him about his favorite aircraft. "My favorite is the F-86," he answered. "It was so nice to fly, maneuverable and quick." I asked him about flying with other pilots. "I don't like to fly aerobatics with other pilots," he said, much to my surprise. "It makes me uncomfortable if I don't know what the pilot is going to do without warning. It's not pleasant for me. I prefer to know what a pilot is going to do, so I can prepare for it."
Hoover's comment brought me back to what he's probably best known for: his mind-blowing aerobatic routines from air shows spanning more than 30 years. While some pilots tumble and spin with brute force and power, Hoover took a twin-engine business aircraft—a Rockwell Shrike Commander—and flew what he called "energy management maneuvers." These were smooth rolls and loops with one engine, then both engines, feathered. He'd land dead-stick and roll the aircraft to a stop perfectly in front of the cheering crowds. He also flew soaring maneuvers in a yellow P-51 D Mustang. During both acts, he wore a wide-brimmed straw hat. YouTube has videos of these shows, and they're breathtaking to this day. Nobody has ever matched Hoover in finesse and grace. I doubt anybody will.
Page 2 of 3