Tuesday, January 28, 2014
At Home With Bob Hoover
With more than 50 years in the cockpit, aviation's living legend talks about flying
I wonder if Hoover misses flying, but looking out his window, perched high above the Pacific Ocean and with a sweeping view from Malibu to Palos Verdes, I realize he's flying every day in this aerie of his. He lives a quiet life here in a home he has owned for 65 years alongside his beloved wife, Colleen. When asked how it feels to have accomplished everything he has in aviation, Hoover says, "Every time I fly, I experience another dimension of existence, no longer tied to the earth. I feel free—free of gravity, free of everything. It's the greatest feeling in the world."
Bob Hoover's 1996 autobiography,
Forever Flying
, is still in print and available at retail outlets. Look for Birman's film this year.
Honoring A Lifetime Of Excellence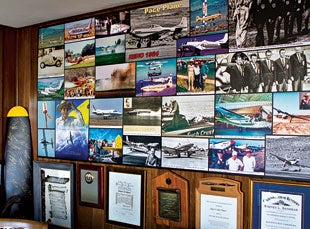 The documentary film about Bob Hoover is the keystone of a larger project to honor the man and his contributions. Though the film isn't titled yet, noted documentary filmmaker Dan Birman wanted to create something that would honor Hoover's accomplishments in aviation in a unique way. "I didn't want to make a old-style history documentary on Bob Hoover," said Birman during filming at Hoover's home near Los Angeles, "I want to make a film that shows the depths of what this man has accomplished."

In February 2014, a series of "Bob Hoover Events" will take place in Los Angeles to both honor Hoover's contributions to aviation and raise funds for a series of Bob Hoover scholarships. Funds will also be used to complete the documentary film. The events are being organized by three noted aviation couples, Tom and Sharon Poberezny, Mike and Maria Herman, and Ron and Diane Fagen. Event hosts will include Harrison Ford, Sean D. Tucker, Clay Lacy, Randy Babbit, astronauts Jim Lovell and Gene Cernan, and other aviation luminaries.

Beginning on February 20th, a series of special events will take place to honor Bob Hoover and his legacy. On the 20th, the aviation world will launch the "Bob Hoover Hall of Heroes." This will be a virtual hall of honor that will be accessed online from around the world. Its mission will be to preserve Hoover's legacy and serve as a lasting tribute to his accomplishments. The Hall will also honor other aviation greats who have given a lifetime of contributions and achievement to aviation. Hoover will be the inaugural inductee, and eight other inductees will be named at a special "Hoover's Heroes Dinner" that evening at the famed Four Seasons Los Angeles.

The main event will happen on February 21st, when the aviation world will gather together to pay tribute to Bob Hoover. This event will take place at the historic Paramount Studios in Hollywood, Calif., and will start with the Lifetime of Excellence Reception for attendees as they walk the red carpet of Bob Hoover's life. This will be followed by dinner under the iconic Paramount Arch. Attendees will then enter the Paramount Studios Theater for the premier of the documentary, with a special program to follow.

Earlier on the 21st is a "Lunch with Bob Hoover and Friends" at the Four Seasons Hotel in Los Angeles. This will be a special program for students from high schools and universities with aviation programs to have lunch with Hoover and a group of aviation leaders. The luncheon will be a special opportunity for young adults to be inspired and motivated by one of aviation's biggest heroes.

Visit www.hooverhallofhonor.com for more information and to purchase tickets.
Page 3 of 3