Thursday, May 1, 2008
Backcountry Bash
The Perfect Recipe For High Country Fun
Pilots sign up for the area they want to visit. Then it's time for more focused briefings. Then, pilots, man your planes.
After seeing Greg's dramatic departure, Tom decides to start our takeoff from the top of that dogleg's little hill. Good thought, Sir Thomas. We bump across the uneven dirt, then at the edge of the steep downslope, he guns it. Ahead and below, the river waits, but in just a few seconds, gravity and Bernoulli's principle lift us smartly away from the descending slope and we're safely underway.
Yeah! Piece of cake!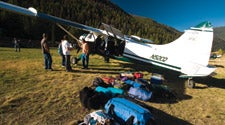 Across The White Divide
It's been a wonderful, too-short week. The jagged, burnt-umber peaks that we flew among five days ago have exploded into a winter's dreamland of snow-covered high country.
I'm back with Blake in his Husky, on our way home. At our 11 o'clock position is Larry Teuber's beautiful evergreen and white de Havilland Beaver, with its iconic radial engine and big-wheeled conventional gear. At our 12 o'clock is Rich Sugden and ever-smiling wife Sue in their Husky.
We stay in formation with the Beaver for a while as Blake and I marvel at the white wilderness below, looking for groups of elk.
I'm reminiscing on a chat with "Tubes" and wonder what he'll fly next. The successful orthopedic surgeon from Grand Rapids has owned, at one time or another, an envious list of airplanes: Cessna 140, Super Cub, L-39 Albatross, two Pitts Specials and a Husky on amphibs.
After a while, the Beaver goes its own way, then it's just us two Huskys, winging a pas de deux above the crystal peaks, then dropping down to skim the alabaster snowplains leading back to Driggs airport.
Blake and I chat, and I'm feeling what may be the greatest benefit of spending five days of your life on such an odyssey. Sure, the flying's been great. The food was wholesome and hearty. Of course, you couldn't beat the locale.
But it's the human challenge of stepping out of our comfort zones and getting to know a great bunch of people that offers perhaps the greatest reward. From the epic stories around the nightly bonfires to ranch-style meals inside the lodge, to sharing lunch in a dollar-bill-papered bar in the almost-deserted mining town of Warren, to a midtown landing at a place called Kooksia, it's the laughter, the stories, the shared takeoffs and landings and discoveries that seem like the larger treasure of this journey into the high country.
See more articles on backcountry flying, rustic destinations and bush planes at
www.pilotjournal.com
.
Page 5 of 5