Tuesday, November 8, 2011
Bahamas 101: Recipe For Paradise
Flying to the Bahamas is the stuff of dreams and is within the reach of nearly any pilot and aircraft
Ambassador And FBO Gateway Program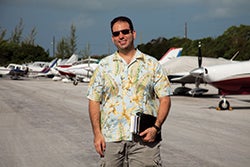 Neil Glazer is part of the Flying Ambassador program that assists pilots unfamiliar with flying to The Bahamas.

In a moment of sheer genius, the Bahamas Ministry of Aviation created the Flying Ambassador program to assist pilots flying The Bahamas for the first time.

Flying Ambassadors are seasoned private pilots with extensive experience flying the islands of The Bahamas. This current group of eight U.S.-based pilots knows all the ins and outs of customs, weather, airports, procedures and forms. Each acts as a sort of personal valet—free of charge—teaching pilots how the system works.

Pilots contact the Ambassadors with their questions or concerns and get insider tips on flying the islands. They'll speak with people like Mike Zidziunas (known as "Mike Z" to everyone), who has been flying these islands for decades, and is the current light-sport specialist (he flies a Breezer LSA all over The Bahamas); or Neil Glazer, who runs PilotMall.com and flies his Mooney to The Bahamas on a regular basis. "The basic concept is to have somebody pilots can call to make it easier for them to fly The Bahamas," says Glazer. "Flying the islands is a state of mind more than anything else. We help pilots know they can do it."

The FBO Gateway program is similar. It's a group of eight select Florida-based FBOs that serve as launching points to The Bahamas. They've been trained by the Ministry of Tourism and can provide expertise, advice, forms and other resources to help U.S. pilots fly to The Bahamas. Most Gateway FBOs even rent gear like Coast Guard-approved life jackets and rafts for pilots who may not own it. They have experienced staff who know The Bahamas, and can steer pilots to the best resorts, restaurants and island experiences.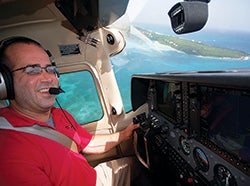 Dan Pooler enjoys the scenery from Sheltair's Cessna 206.

These are FBOs like Banyan in Fort Lauderdale, that have enormous facilities that can accommodate anything. We put them to the test with some mechanical problems that grounded us for several hours. They got us fixed and back in the air the same day, and provided some of the best customer service I've experienced at any FBO.

There's Sheltair (www.sheltairaviation.com), whose General Manager, Dan Pooler, gave us a hop in the company's pristine Cessna 206 for a photo flight, or Showalter Flying Service in Orlando, whose director of business, Brad Elliott, spent several hours with us explaining the Gateway program. These FBOs do more than fuel your airplane. They genuinely want you to have a great experience in The Bahamas.

You can find a list of Flying Ambassadors at www.bahamas.com/bahamas/bahamas-flying-ambassadors, and a list of Gateway FBOs at www.bahamas.com/bahamas/fbos.
Page 4 of 8