Tuesday, November 8, 2011
Bahamas 101: Recipe For Paradise
Flying to the Bahamas is the stuff of dreams and is within the reach of nearly any pilot and aircraft
LSA Fly-In
| By Mike McMann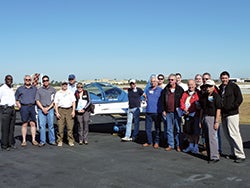 Early in 2007, I got a call from a new LSA manufacturer who thought he had a great story idea: his upcoming cross-country flight to Sun 'n Fun. "But," I asked, "where was the story in flying an LSA cross-country?" I learned to fly in the early '60s, and flew many cross-country flights in aircraft that today qualify as LSA. In 1985, I met an older pilot who was completing a bucket-list item, flying his Aeronca around the U.S circumference. There really isn't anything heroic about flying an LSA cross-country—it's entirely feasible.

This is why, when I was invited to partake in the first annual Bahamas LSA Fly-In in December 2010, I responded with an enthusiastic "yes." Flying an LSA cross-country would be like old times again—throw in The Bahamas, and how much better can it get? The Bahamas opened their islands to LSA just a few days prior, so our group would be establishing history when we arrived in 17 LSA.

We departed from Banyan Air Service in Ft. Lauderdale, Fla., en route to Freeport. I flew in a new Remos, one of the more popular LSA with a very good safety record. In my many thousands of hours of flight, this flight was one of the most beautiful, with a kaleidoscope of colors in the waters below.

The welcome provided by the Bahamas Ministry of Tourism and Aviation was impressive. Twenty-five people flying into one airport in 17 LSA is unique and can hopefully be duplicated frequently if The Bahamas continues to do things right and aircraft buyers start flying these affordable aircraft to a much larger degree. One of the best recollections of the trip was that we all burned less than 10 gallons of fuel!

The second annual Bahamas LSA Fly-In (www.breezeraircraftusa.com) will be held December 9-11, 2011, departing from Miami's Opa-locka Executive Airport to Bimini, a distance of just 50 nm. Plans are already underway for snorkeling and boat trips, as well as other resort activities common to the Bahamas. The Maverick Flying Car may also make the trip this year—talk about adventure!
Taking The First Step
As pilots, we have the best access to this paradise, and can experience it in minutes rather than hours. The Bahamas was made for pilots, and it's only from our little aerie that the full spectrum of this place becomes evident.
Start your journey at
www.bahamas.com/flying
, and set a mental goal to fly to these islands. It's easy, it's immensely rewarding, and it's within the reach of any pilot. I'm bewildered as to why every pilot in Florida isn't flying here daily.
As for me, my mind is back on that coral-sand beach, where it will remain until I can return to this land of robin's-egg blue. My love affair with these islands is deep and relentless. My mistress is a tiny strip of deserted sand, the gentle sound of azure waves lapping at my feet and the smell of trade winds wafting the salt air into my lungs. It's a recipe for paradise, and all the ingredients are ready—all you have to add is the pilot and the plane.
Page 7 of 8