Wednesday, September 9, 2009
Best Of The West!
Where we love to fly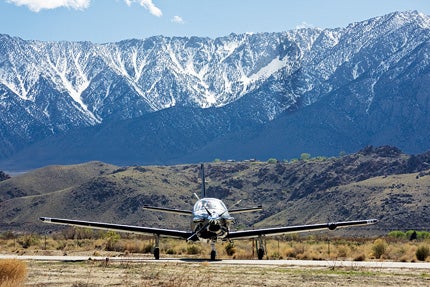 One of the great benefits of general aviation is having easy access to spectacular destinations around the world.
Often, word of mouth is the best way to learn about a great spot, and we've recently launched a new feature on our website that makes travel information more accessible.
Favorite Flying Destinations is an online "show-and-tell" for pilots, where you can share your favorite airport-based restaurant, resort or recreational activity.
Before you launch on your next flying vacation, be sure to browse suggestions that other pilots may have. Check out
www.planeandpilotmag.com/favorite-flying-destinations.html
!
Lone Pine, California
Jim Wynbrandt, Contributing Editor
Airport:
Lone Pine Airport (O26)
Activities:
Hundreds of Western films were shot in Alabama Hills, hilly ranges with rounded boulders just south of Lone Pine in the desolate Owens Valley. Lone Pine is also the gateway to the Mt. Whitney hiking trail. If your airplane can make it up to 14,000+ feet, then you can take an aerial tour of Sequoia National Park, Mt. Whitney and the Sierra Nevada.
Best Season:
Spring, fall
Flying Tips
: Be aware of density altitudes. Terrain rises precipitously to the west. Mt. Whitney, the highest point in the continental United States, is just a few miles west.
What to Bring:
Hiking shoes, sunscreen, hat, water
URL:
www.lonepinechamber.org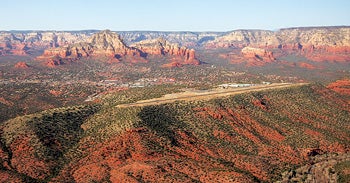 Sedona, Arizona
Bill Cox, Senior Edito
r
Airport:
Sedona Airport (SEZ)
Activities:
Sedona's big attraction is simply the terrain itself. The landscape is straight out of a John Wayne movie, and you can't help but be a little staggered by the beauty of the area's canyons. Red Rock Biplane Tours uses new-generation, open-cockpit Waco YMF-5C biplanes for scenic tours. You'll see the area from the sky in a way you might not from your own plane.


Best Season:
Year-round
Flying Tips:
Note the density altitude, which can top 9,000 feet in the summer. Standard drill in light winds with no traffic conflicts is to land uphill on 03 and depart downhill on 21. Oh, yes, both thresholds are adjacent to cliffs, so whichever way you land, you're only allowed to undershoot once.
What to Bring:
Camera, jacket (in winter)
URL:
www.sedonaairport.org
Page 1 of 3