Wednesday, September 9, 2009
Best Of The West!
Where we love to fly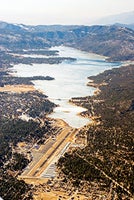 Big Bear City, California
Marc Lee, Contributing Editor
Airport:
Big Bear City Airport (L35)
Activities:
In the summer, there's fishing, camping (awesome on the north side of the lake), off-roading and dining. In the winter, the skiing is among the best in Southern California. Also, check out the Moonridge Zoo and the solar observatory tour.
Best Season:
Year-round
Flying Tips:
Brush up on your mountain flying skills. In the summer, be aware of afternoon thunderstorms, strong winds and density altitude, which can reach up to 11,000 feet. Incoming aircraft must not approach over the dam. Approaches should be at 9,500 feet over the south ridgeline, over tiny Bluff Lake. Outbound aircraft should depart over the lake and toward the dam during normal westerly wind days.
What to Bring:
Winter—skis. Summer—fishing and camping gear.
URL:
www.bigbearcityairport.com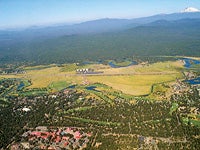 Sunriver, Oregon
Mike McMann, Publisher
Airport:
Sunriver Airport (S21)
Activities:
Sunriver Resort is one of the best outdoor fly-in destinations in the country. It has its own airport with a fly-in community on one side and resort on the other. The resort offers golf, fishing, canoeing on the Deschutes River and tennis, plus skiing in the winter.
Best Season:
Year-round
Flying Tips:
Look for Sunriver in central Oregon in the high desert area. It's just south of Bend and Redmond. There are major mountains just to the west.
What to Bring:
Golf clubs, outdoor gear
URL:
www.sunriver-resort.com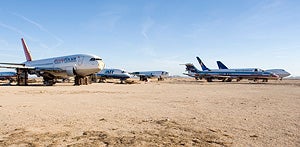 Mojave, California
Pamela Lee, Managing Editor
Airport:
Mojave Airport (MHV)
Activities:
The home of Burt Rutan's Scaled Composites (SpaceShipOne won the Ansari X Prize after achieving the first privately funded human spaceflight at Mojave) is also home to the "boneyard." The extremely dry weather makes it an ideal resting place for retired airliners; tours can be arranged.
Best Season:
All but summer, when temperatures can exceed 120+ degrees.
Flying Tips:
Be aware of restricted airspace R-2515 to the east. If it's not active (check with Joshua Approach), head 17 nm southeast for a peek at Edwards AFB's gigantic runways, some carved into dry lakebeds.
What to Bring:
Lots of water, comfortable shoes, sunblock, camera
URL:
www.mojaveairport.com
Page 2 of 3