Wednesday, September 9, 2009
Best Of The West!
Where we love to fly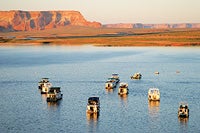 Lake Powell, Arizona & Utah
Jessica Ambats, Editor
Airport:
Page Municipal Airport (PGA)
Activities:
Jet-skiing (through rock canyons), houseboat cruising, swimming, mountain biking and secluded camping. (Lake Powell has nearly 2,000 miles of shoreline!)
Best Season:
Year-round
Flying Tips:
Check density altitude during the summer. If you're arriving from the south/southwest, the most scenic route is via the Grand Canyon VFR corridors. Continue northeast over Marble Canyon into Page, Ariz.
What to Bring:
Bathing suit, sunscreen, camera
URL:
www.lakepowell.com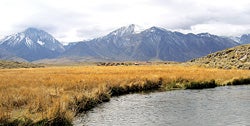 Mammoth Lakes, California
Jeff Schroeder, Advertising Manager
Airport:
Mammoth Yosemite Airport (MMH)
Activities:
In the summer, fishing, hiking, mountain biking and golfing. In the winter, skiing, skiboarding and…skiing!
Best Season:
Year-round
Flying Tips:
Watch out for strong winds coming over the Sierra Nevada mountain range throughout the Owens Valley. Also, there's no runway snow removal at night.
What to Bring:
All of your outdoor sports equipment, but if you forget it (or can't fit it), you can buy or rent anything imaginable there.
URL:
www.mammothmountain.com
Our Favorite European Destination!
Lago di Como, Italy
Jim Lawrence, LSA Editor
Airport:
Aero Club Como (water landings only!) and Milan Malpensa Airport (MXP)
Activities:
Get your seaplane rating at Lake Como, Italy's only seaport! Windsurfing, sailing, boating, paragliding, celebrity sighting and shopping.
Best Season:
March through October
Flying Tips:
Study up on local aviation regulations.
What to Bring:
Recreational gear, web-enabled cell phone, guidebooks
URL:
www.aeroclubcomo.com
Page 3 of 3