Tuesday, April 9, 2013
Big South Fork Airpark
We came in search of an ideal airplane for the residential airpark lifestyle and found an ideal residential airpark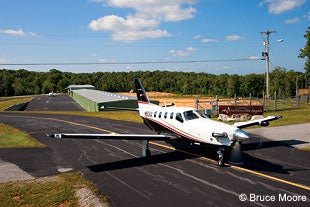 Airplanes are kept in a row of hangars just outside the airport gate.
Cliff and Krystal Morris of Orange County, Calif., had come in that weekend in part to discuss construction plans with Armstrong and his partners. "We've got to sit down and talk about what we can get it built for," said Krystal.
The couple had been looking to leave California for years, but a residential airpark wasn't necessarily part of the plans, said Cliff, who plans to rebuild a Mooney 201 he owns once they're established here. "Sitting around one evening, I think it was an AOPA email that had a Big South Fork Airpark spread. I said, 'Look, this is beautiful!' She said, 'Yeah, it is—let's look into it.'"
"We came out here and met some of the other owners, and saw the beauty of the place, and then the airport here is much more capable than most places you find in an airpark setting," Krystal said.
While all the owners are bound by their passion for aviation, once here, they all seem to develop—or perhaps merely cultivate—a love of hiking, four-wheeling, fishing and horseback riding in the national recreational area next door. BSFA has an equestrian center with Paso Fino horses, noted for their fine, steady gait, available for to residents ride. They simply call the barn, and saddled horses are brought to their home for a ride on some of the 200 miles of horse trails lacing the Big South Fork Recreational Area. They also can use the facility's competition-size arena to practice for equestrian events.
"Jean really enjoys the horses," said Fred Huppert, a Liberty XL owner from Worcester, Ohio, of his wife. One of several BSFA property owners relatively new to aviation, Huppert earned his license at age 55. But the Hupperts don't simply enjoy the wilderness here. They've toured Knoxville, went to an Irish Festival in Crossville, they take in community theater in the area and look forward to exploring Civil War battlefields. "In a short time, we'll be retiring and spending more time down here, visiting more of the state," said Huppert.
Not that one has to go into the recreation area to experience wilderness, as I found after encountering a bear lumbering along the side of the gravel road after taking a wrong turn one afternoon, or coming upon a family of deer crossing the road as I headed to the hangars one morning.
Meanwhile, BSFA hosts events for aviation groups to give them a chance to enjoy the area. The Mooniacs from Atlanta's Peachtree DeKalb Airport recently visited, and the Beechcraft Heritage Museum in Tullahoma, Tenn., organized a fly-out to BSFA during their annual October Fly In. The airpark also arranges monthly activities for property owners, such as group motorcycle rides, four-wheeler excursions and a tennis tournament.
Could residential airpark living be the lifestyle for you? If you're not sure, why not find out. Many such communities are happy to host visitors interested in learning more about the property. "We encourage people to come and experience our beautiful surroundings," said Armstrong. "Let us provide a place in the Welcome Center. All you have to do is say, 'Can we spend the night?'"
As for that ideal RAA, we're still trying to make our minds up, and eager to put more aircraft to the test. If you have any candidates to suggest, we know just the place to put the airplane through its paces. Visit
www.bsfairpark.com
for more information.
Page 3 of 3