Monday, September 1, 2008
Bugs & Hugs
The "Glamorous" Life Of A Wingwalker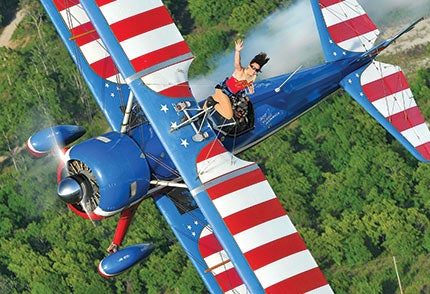 I've always been fascinated by people who voluntarily climb out of the seat of a perfectly safe airplane and onto its wing. My first experience seeing a wingwalking performance was at an air show in Florida, where a biplane in a power dive caught my attention. On top of the wing was a woman waving frantically at the crowd. Pilot Greg Shelton and wingwalker Ashley Battles were gaining speed for their first maneuver. Through my zoom lens, I was amazed at how composed Ashley was through loops, rolls, hammerheads and even snapping maneuvers, all the time grinning from ear to ear. Why would anyone ever think of doing this? "Is there Velcro on the bottom of her shoes?" I thought to myself.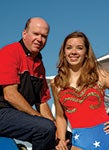 Greg Shelton and Ashley Battles have been performing their wingwalking routine together since 2003.
"It's mostly about the young people for me," says Ashley. "All of the kids just love our show; they have so many questions. Some are humorous: 'Do you have Velcro on your shoes to stay on the wing?' [Oh well!] Most have intelligent inquiries, showing surprisingly keen interest in what it's really like on top of the wing." Ashley, in her Wonder Woman outfit, has these kids entranced, and she happily signs autographs and poses for pictures. "It's what I love most about this business," she explains.
You have to wonder what Ashley's mom thinks about this career choice; after all, she was only 20 when she first went out on the wing in 2003. "Actually, she's very supportive of me. She's the only one who hasn't said, 'you're crazy for doing this,'" muses Ashley. Raised in Georgia, Ashley originally moved to Oklahoma to pursue a degree in aviation management. After five years of flying straight and level, Ashley became interested in air shows and aerobatics. She was introduced to Greg Shelton, who was looking to add a wingwalking act to his Stearman routine. Greg asked Ashley if she had ever wingwalked before, and Ashley asked right back if he had ever flown with a wingwalker. The answers were both the same: "No!" What a perfect pair.
Page 1 of 3