Tuesday, October 8, 2013
Canada By PC-12
A Pilatus adventure across the border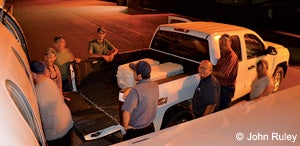 A long day's flying brings several hundred pounds of Canadian game to Modesto, Calif.
It's also necessary to notify Customs for the country you're flying to. That's something I've never had to worry about when arriving in Mexico, where (at least for medical mission flights) it's handled on arrival, but for Canada, we were required to contact Customs by telephone before departure. On this trip, we had an additional complication, since the passengers were taking firearms over the border. Fortunately, they already had the required documentation.
An international flight plan must be filed, which can be IFR or Defense VFR (DVFR). Either way, it's now required to use the complicated International Civil Aviation Organization (ICAO) flight plan form. While it's possible to do this electronically using DUATS, in my personal opinion, this is one time that you're better off using the phone—call flight service, and have them prompt you for an international flight plan. Some elements of the ICAO form are more than a little confusing (the section on survival equipment, for example, expects you to check off all equipment that you don't have). A flight service specialist can handle this for you and minimize the risk of making a mistake.
In flight planning, you must make your first landing at a designated port of entry in the country you're planning to visit—and on your return, your first landing must be at a U.S. port of entry. For our outbound flight, we planned to land at Saskatoon (CYXE). Our inbound port of entry was originally supposed to be Boise (KBOI).

Flying to Canada from the U.S. isn't particularly difficult—and it can definitely be a rewarding experience.

Finally, you need charts for the country where you'll be operating, and Larry and I took two different approaches to that. As a longtime IFR pilot, he bought a "trip kit" from Jeppesen, which included en route and approach charts, instrument approach plates—and several hundred pages of text that cover ICAO flight rules and any national variation from those rules. These can have significant impact—in Mexico, for example, all night flying must be done IFR. In Canada, all IFR flights require a declared alternate (the U.S. "1-2-3" rule doesn't apply), and VFR cross-country flights of more than 25 nm require a filed flight plan.
I chose a different option—a subscription to Canadian charts for the ForeFlight Mobile iPad app. That included visual navigation charts (VNCs), which are similar to U.S. sectionals, high- and low-altitude en route IFR charts, approach plates and Canadian Flight Supplement (CFS) data for airports—similar to the U.S. Airport / Facilities Directory (AF/S). The CFS data turned out to be especially helpful as it included Customs phone numbers for airports of entry.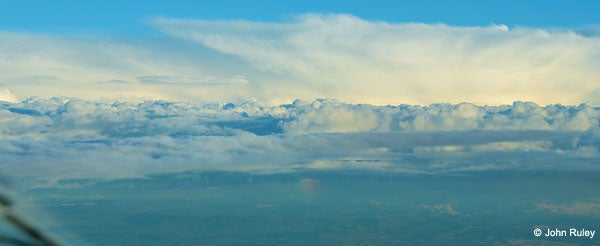 Returning from Canada involved diverting around a large area of thunderstorms.
Page 2 of 5