Wednesday, November 1, 2006
Cavanaugh's Flight Through Time
What started as a private hobby has grown into a serious collection

Jim Cavanaugh has a habit of starting small and building big. An integral part of his formula is his desire to share his passions with others so that, in the end, everyone wins." />
The Addison-based Cavanaugh Flight Museum, which opened in October 1993, is more diverse than most aviation museums. The collection includes aircraft from World War I, World War II, the Korean War and the Vietnam War. The assemblage of airplanes, most of which are flyable, includes polar opposites, such as a 1930s vintage J-3 Cub and a Mach 2 F-4C Phantom. Twice a year, the museum holds a fly-by show. "We usually have flying events on Memorial Day and just before July 4th," reports Kevin. "The fly-bys aren't just events to showcase airplanes. We try to invite veterans so that people can meet them and learn about their experiences. Of course, we do send out a lot of our airplanes to other air shows throughout the year. We want to share the heritage with the public. To do that, we have to fly most of these airplanes."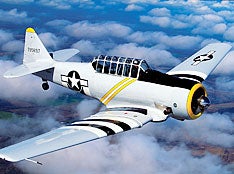 By working at the museum, Kevin has been able to pursue his desire to fly. "I wanted to learn how to fly in a tailwheel airplane and went to a local Cub school here at Addison," he says. "I worked on my private in a Cub, though, of course, I had to do some maneuvers in a Cessna 172 for my test, but I was mostly interested in tailwheel airplanes.
"The day after I got my private license, Jim let me take the PT-19 to a show in Oklahoma City. I began flying the PT-22 and the Stearman, and when I got 500 hours, I began flying the T-6. Eventually, I moved into the Avenger and just this year, I checked out in the P-51. It's been a dream come true!"
The Cavanaugh Flight Museum has an extensive maintenance facility, but the organization didn't pursue its own restoration work until recently. Kevin observes, "The PT-19 was our first restoration in 2003; we recently restored a Bell 47. Now we have the manpower and the resources to refurbish these airplanes, so we'll probably do more in the future. Our Corsair is waiting for the engine to be returned from overhaul, and we expect to do another Bell 47."
The WWII collection includes some very rare combat veteran airplanes. Few of the warbirds in existence today were combat veterans because very few made it back home after the war. The museum's B-25 (dubbed "How Boot That!?"), an 80-mission veteran of the Italian front, sits proudly in hangar number one. It survived as a multi-engine trainer, and when the museum restored it, the original artist repainted the nose art. The Spitfire, a veteran of the Far East conflict with Japan, is resplendent in its wartime colors. The Commemorative Air Force P-47N, painted in the colors of Oscar Perdomo, who shot down five Japanese fighters on the last day of WWII, will arrive soon to begin final assembly.
Page 3 of 4