Tuesday, April 20, 2010
Cowboys & Angels
In Haiti, general aviation pilots are making a measurable difference
As The World Shakes
GA to the rescue in Chile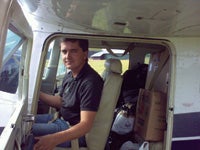 While the world's eyes were still focused on the destruction in Haiti, a massive 8.8-magnitude earthquake struck Chile during the early morning hours of February 27. Though Chile is a country well-prepared for earthquakes, the intense shaking, country-wide blackouts and devastating tsunami that followed left thousands in need of basic supplies. Once again, general aviation proved its ability to access remote areas and respond quickly and effectively. In Chile as in Haiti, GA has assumed a primary role in providing relief.

Jaime Hernandez is the general manager of AeroTrust Chile (www.aerotrust.cl), an FBO providing aerial tours, photography and pipeline patrol services in aircraft ranging from Cessnas to Robinson helicopters. After the earthquake, the Chilean Air Force helped organize GA pilots—including Hernandez—to fly supplies into areas where key bridges had been destroyed. "It took something like this to show the authorities how valuable our airfields and airplanes are," says Hernandez. "But we've demonstrated it now." Hernandez adds that the challenges of flying in these remote areas are nothing new to local pilots. "Oh, just short and soft fields," Hernandez laughs. "Chile is easy to fly!"

Journalists Erik Schaffer and Silvia Stock report that the Santiago Flying Club has been airlifting vital food and medical supplies into the affected zone. Businessman and pilot Jaime Colvin has made several puente aéreo (air bridge) flights to Isla Mocha, 22 miles out in the Pacific, where the tsunami flattened most of the houses in the island's only settlement. Chilean celebrities who are also pilots are helping with the effort, including tennis star Fernando Gonzalez and Chilean soccer coach Marcelo Bielsa.

Page 6 of 6