Saturday, March 1, 2008
Crewing For Red Bull, Down Under
Race pilots fly an awe-inspiring competition, but they can't do it alone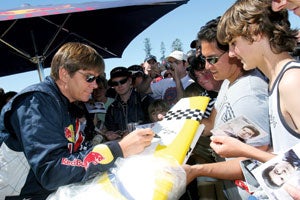 The Red Bull Air Race world series has a strong international following, and more than 350,000 spectators attended the 2007 championship race in Perth.
And that's why a pilot's support team is essential. In fact, every team in 2008 will include one or two A&P mechanics plus a team coordinator to help ease the load and take racing to the next level. Chandoline Byrnes, Kirby's team coordinator, oversees the team's travel schedule and onsite logistics, acting as a liaison with Red Bull Air Race. "Before every race," she says, "there's a tremendous amount of logistics and planning involved to make sure everything runs smoothly with the team."
A fraction of a second makes all the difference, so teams aim to reduce aircraft weight and increase power as much as possible. "Between flights, I try to get the motor as cool as I can by facing it into the wind or by using fans," explains Lance. "We also monitor the smoke system, and I try to keep the hole in the exhaust pipe small. We want to have enough smoke to run the race, but we don't want more than necessary because it'll add weight. We tape up gaps between panels and on flight surfaces to reduce drag and use lighter batteries, alternators and prop governors. We even advance the timing a little bit."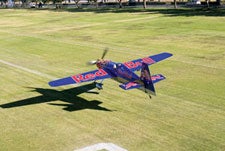 2008 Race Locations
Check www.redbullairrace.com for exact dates and cities
United Arab Emirates
United States
Sweden
Netherlands
United Kingdom
Hungary
Portugal
Spain
Australia
But they won't tell me all their tricks. Over the years, the races have become more competitive, and pilots more secretive. "I no longer pull the cowling off the airplane when other teams are around," admits Jason. "The pilots are all friends, but when it comes to racing, they get quiet during finals." During training sessions, he acts as a spotter, watching Kirby fly to see where they can squeak out another half second, and tracking others to see if there's anything new up their sleeves.
A similar friend-competitor dynamic exists between crew members as well. "As mechanics, we'll help another pilot out if they need it," concedes Lance. "We want them to win on skill, not because a mechanical problem grounded someone else." At the race in Istanbul, the wingtip on U.S. pilot Mike Mangold's airplane failed. Len, who was crewing for Steve Jones, helped with repairs, and Mike won the race. "We always try to assist, but at some point in the future, I suspect the race officials won't want us to do that," predicts Len. "We're all there to win, and it may come to the point where if someone else has a problem, then that's their tough luck."
During the off season, crew members handle media obligations, ferry flights, maintenance work and test modifications. Both of Kirby's airplanes were required at an air show in San Antonio, Texas, but there was only one Jason. So he ferried the first one, returned on an airliner, and then ferried the other one—all in one day. Kirby enjoys this ultimate autopilot: "I tell the airplane to go from point A to point B, and it does. I don't want to ferry; I just want to get home. But I wish I'd had a job like that when I was Jason's age." Jason's sentiments exactly: "Ferry flights are an awesome opportunity to fly the Edge. The coolest flight was from Istanbul to Interlaken. We flew over places I'd never even dreamed of. What I would ultimately love to do is race, and the flying experiences I get are worth more than any pay I could ever receive."
Page 3 of 4