Tuesday, August 25, 2009
Days Of Celebration, Days Of Dreams
10 new planes that offer encouragement and new visions for aviation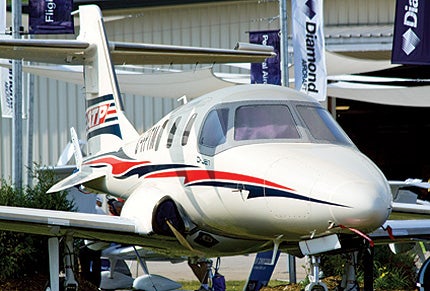 ATP & D-Jet
We may well mark 2009 as a dramatic evocation of past and future, a time when the traditional veneration of past achievements and the bright and amazing promise of future technology both occupied center stage. We'll remember the frightening economic crash of 2008, which seems, at last, to be yielding to recovery. At EAA AirVenture, airplanes and crowds—by the thousands and thousands—poured from the skies and through the turnstile arch to spill onto the carnival-bright grounds of Wittman Field.
This is a year for anniversaries: the 50th of the Cessna 150, 60th of the North American T-28 Trojan, 80th of the Pietenpol and 100th of Canadian aviation. But it will also go down in the history books as the year when the future snuck in on a whir of silent propellers: commercially produced electric-powered aircraft made their dramatic debuts.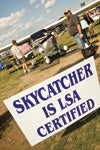 Cessna 162 SkyCatcher
Much as we remember the flights of the Wright Flyer at Kitty Hawk a century ago, we'll point to the first flights of commercially produced electric-powered airplanes as the time when the world changed forever—again. The future is here, and it is now.
The 10 aircraft below represent our take on recent aviation notables, but you can take away this capsule overview: Economic doldrums seem to be fading, and the human spirit of endurance, adaptation and innovation is alive and as exuberantly indomitable as ever.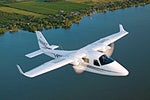 Tecnam P2006T
Cessna 162 SkyCatcher
The long-watched, patiently awaited (more than 1,000 orders are on the books) Cessna SkyCatcher, powered by the 100 hp Continental O-200D, emerged from flight-testing setbacks with its ASTM certification sticker—the 100th LSA model to do so. Deliveries of the China-produced LSA should start by year's end. Visit
www.cessna.com
.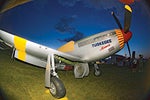 Red Tail P-51
Tecnam P2006T
Long-time Italian producer Tecnam offers its P2006T, a "compact," twin-engine high-winger that takes an impressive new slant on four-seat personal or business travel. Powered by FAR 33–certified Rotax 912S engines, the bird has a 9 gph total burn; that's with both engines running. It also features retractable gear, full-feathering constant-speed props and an optional all-glass avionics cockpit—all for less than $500,000 fully equipped. Visit
www.tecnamaircraft.com
.
Red Tail P-51
The famed Tuskegee Airmen, World War II's celebrated African-American troop of P-51 fighter pilots, are enjoying yet another celebration of their storied past with the return of one of their own: a C-model Mustang like the one they flew so long ago. Following a fatal crash, the airplane was rebuilt through tens of thousands of hours of work and donations amounting to $25,000 over the project's five years. Visit
www.redtail.org
.
Page 1 of 2