Tuesday, August 25, 2009
Days Of Celebration, Days Of Dreams
10 new planes that offer encouragement and new visions for aviation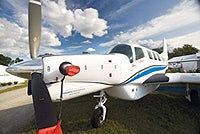 P-750 XSTOL
P-750 XSTOL
From New Zealand comes this rugged-looking XSTOL (extremely short takeoff and landing) airplane with an impressive range of potential mission modes, including passenger/cargo/utility hauling, skydiving, crop dusting and aerial surveying! The P-750 offers 10 seats, takeoff and landing in less than 800 feet, rough-strip operations and a 4,000-pound useful load even in high-
density-altitude conditions. Visit
www.aerospace.co.nz
.
Diamond DA20
ATP & D-Jet
Diamond Aircraft has chosen Airline Transport Professionals (ATP) as its flight-training provider, with 20 D-Jets currently on order. ATP will provide factory-authorized type-rating and recurrent training and support services for the new VLJ at several of its centers nationwide. The flight training is aimed primarily at the owner-pilot market, which focuses on an initial pilot-candidate assessment and six- to nine-day comprehensive programs. Visit
www.atpflightschool.com
and
www.diamondaircraft.com
.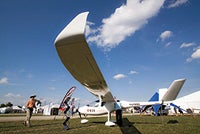 Yuneec E430
Diamond DA20
Diamond's sporty, two-seat, T-tail flivver received a panel makeover with Garmin's newly certified G500 PFD/MFD. Priced at $15,995, the G500 is targeted at more than 600 single- and twin-engine aircraft. Options include a version of Garmin's Synthetic Vision Technology (SVT) software and the GAD 43 autopilot interface. Visit
www.diamondaircraft.com
and
www.garmin.com
.
Yuneec E430
The all-composite E430 LSA is the world's first commercially produced, two-seat electric aircraft. It flies for well over an hour on just $2.50 of electric charge! Look for it on the market within the next year, and expect refinements—the E430 was brought from design to first flight in only four months! Visit
yuneeccouk.site.securepod.com
.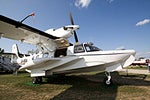 Dornier Seastar CD2
Dornier Seastar CD2
Dornier's all-composite, twin Seastar CD2 amphibian can be configured in various ways, with a max passenger load of 12! Fully certified, its power train features two Pratt & Whitney Canada PT6A-135A in-line turboprops with 650 shp each. Max climb is 1,300 fpm; max cruise is 180 knots. Visit
www.dornierseaplane.com
.
Icon Aircraft A5
The much-anticipated Icon Aircraft A5 amphibious S-LSA had its land-launch debut at EAA AirVenture's seaplane base in July. Hundreds of aviation enthusiasts watched the production prototype—the company says 400 orders are on the books—nimbly carve high-bank turns overhead and then perform numerous takeoffs and smooth landings on water. It was an impressive public showing. Visit
www.iconaircraft.com
.
| | |
| --- | --- |
| Icon Aircraft A5 | Stratos 714 |
Sonex & Stratos Personal Jets
Longtime kit aircraft maker Sonex could sell its SubSonex single-place jet for less than $50,000; it weighs 330 pounds and has a 750-pound gross weight. The engine comes from RC modeling ranks! Projected Vne is 300 mph. Also in development is the Stratos 714, a four-seat very light personal jet (VLPJ) project with performance that includes operations at FL410. Visit
www.sonexaircraft.com
and
www.stratosaircraft.com
.
Page 2 of 2