Tuesday, November 6, 2012
Diamond Aircraft's Austria Home
A visit to the factory at Wiener Neustadt and a tour of the Austro Engine Plant
It's late August, and it's also Saturday morning of my last weekend in Austria. For the past five years, I've been living and working in Vienna, but today, I'm driving about 20 miles south from Vienna to Wiener Neustadt (literally "Vienna new town" or "New Vienna") to visit the Diamond Aircraft factory and the adjacent Austro Engine manufacturing facility. Diamond's factory is located at Wiener Neustadt East (LOAN), which has a 3,500-foot paved runway. In addition to the Diamond and Austro factories, it hosts a number of GA operators, as well as the Aviaticum museum and the pleasant Katana Kafe next to the museum—named for the DA20 Katana, an example of which is mounted outside the Kafe.
Wiener Neustadt has a rich aviation history, and for me, it's familiar territory. For a year or so, I regularly went to a sailplane club at Wiener Neustadt's other airfield, Wiener Neustadt West (LOXN). When I went to LOXN, I would often make the short cross-town drive to LOAN to visit the museum or to have lunch at the Katana Kafe, usually both if possible. LOXN is a grass field (its longest runway is about 5,300 feet) that celebrated its 100th anniversary in 2009. LOXN was the first airfield in Austria-Hungary, and today, it's a joint military-civilian operation, with the civil side of the field primarily devoted to sailplanes and parachuting. Visitors to Wiener Neustadt may also be interested to see the Theresian Military Academy, located in the center of town, which is the oldest military academy in the world, established by Empress Maria Theresa in 1751. Like almost all of Wiener Neustadt, it had to be rebuilt after the World War II bombing that heavily targeted the area, in part due to its aircraft industry.
Michael Feinig, Diamond's Managing Director, graciously agreed to give up part of his Saturday for the factory tours, and, I hope, a flight in one of Diamond's aircraft. However, it's a drizzly summer morning with intermittent showers from a series of slow-moving fronts that have led to some severe flooding to the east, and there's also an overcast. Whether we'll fly seems problematic as I head south.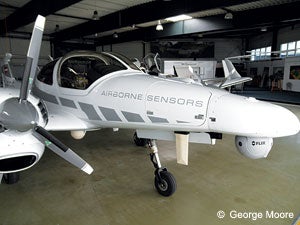 I meet Feinig at the Katana Kafe and he explains the history of Diamond and the company's current worldwide activities. Diamond, now owned by the Dries family, evolved from Hoffman Flugzeugbau (Hoffman aircraft manufacturing), which produced the H36 motorglider. In 1987, the company moved to Wiener Neustadt and then was acquired by the Dries family in 1991. The acquisition was followed in 1992 by the establishment of a production facility in Canada. The company name became Diamond in 1996. Diamond also has a joint-venture facility in China that opened in 2005 and builds the DA40 there under license.
In essence, there are three Diamond factories, but none produce all of the Diamond line, which currently consists of the DA20 (two-place single engine), DA40 various models (four-place single), DA42 various models (four-place twin) and DA50 (four-to-five-place single). The DA52 (five-to-seven-place twin) and the D-Jet are under development. Wiener Neustadt is the global headquarters and design hub. There are about 500 employees there among the approximately 1,250 worldwide.
Throughout our conversation, Feinig emphasizes Diamond's expertise in composite aircraft, starting from their history with motorgliders. He also details their commitment to the development of general aviation aircraft and, specifically, their approach to the training and flight school market. Diamond has a dominant market share of the training market in Southeast Asia (approximately 90%) and is working hard to expand the market. One important factor in the Diamond approach is their use of diesel engines. In Asia, it's often difficult to find avgas, but Jet A or its equivalent is available wherever fuel is found.
Page 1 of 4