Tuesday, May 8, 2012
Doing Good With General Aviation
Utilize your aeronautical gifts through volunteer organizations that make the world a better place
Requirements:
Pilots N Paws permits anyone with a current pilot certificate, including student-rated pilots. If you're looking to do your required long cross-countries and would like to write part of those fees off on your taxes as a donation through Pilots N Paws' 501c3 status, check the Pilots N Paws forum board to see if there are any transport requests in your area. If you have higher ratings and are in the mood to fly and have a desire to make the world a better place for animals, the same forum board will have more information. More than likely, there are needs in your area.
Rewards:
Money spent on Pilots N Paws flights is eligible in part for a tax deduction. One-hundred percent of plane rentals can be deducted as a donation. However, the biggest reward is the knowledge that you've made the world a better place and given the opportunity for life to a deserving animal. Ask any working pilot, and he/she will tell you that Pilots N Paws pilots are the highest-compensated aviators in the aviation game.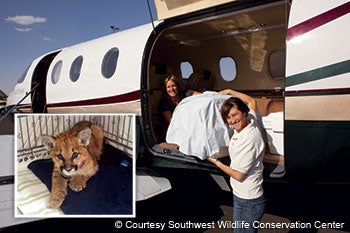 Joy Covey, a Lighthawk volunteer pilot from Woodside, Calif., donated a flight in her Pilatus PC-12 to transport two orphaned and injured mountain lion cubs to the Southwest Wildlife Conservation Center in Scottsdale, Ariz.
LightHawk
www.lighthawk.org
Founded in 1979, LightHawk is a volunteer-based environmental aviation organization that provides donated flights to environmental-conservation groups. LightHawk partners have found that their work has been greatly enhanced with the ability to take to the sky. Donated aircraft and flight time give them the ability to gain information and images that would have been otherwise impossible. LightHawk is built on a platform of service. The entirety of their work is done in collaboration with over 200 conservation groups annually. In 2011, some 90 LightHawk pilots flew 1,450 mission hours in the U.S., Canada and Mesoamerica. Pilots also enjoyed the opportunity to transport 70 aplomado falcons and orphaned wildlife that included two cougar cubs and one grizzly cub.
Requirements:
LightHawk pilots are required to have a current private pilot certificate and a minimum of 1,000 hours of pilot-in-command time, as well as valid passenger liability insurance.
Rewards:
There's no better way to combine your love for nature and the environment with a passion for flying. LightHawk's goal is to enhance the ability of other conservation groups to get the job done. Money spent on LightHawk flights are tax deductible.
The primary reward for flying for any of these organizations is the opportunity to utilize your aeronautical gifts to make the world a better place. I had one Wings of Mercy passenger who spent eight hours in an ambulance with lights and sirens blaring to go from Luddington, Mich., to Madison, Wis., to receive his double transplants. I returned him to his family postsurgery in 53 minutes. Life just doesn't get better than that. No matter who you are, there's an organization out there that's providing aeronautical services in an area of one of your passions. To find other groups that could also put your flying skills to good use, visit
www.aircareall.org
.
Page 4 of 4
Labels:
Aviation Resources
,
Careers
,
Cross-Country Travel
,
Features
,
Journeys
,
Outreach Programs
,
Overcoming Adversity
,
People and Places
,
Aviation Personalities
,
Aircraft Ownership
,
Adventure Flying