Sunday, May 1, 2005
Escorted Adventures
Taking full advantage of being a pilot in Central America

Bob and Jill Blettner flew from Wisconsin down to Key West, Fla., in their Cessna Centurion to meet Thierry Pouille for the first time. Jimmy and Diane Jones came from Georgia in their C-206. Don and Arlene Stoppe flew their Seneca from New Hampshire. Philippe Harsch arrived from Paris, and Marc Cotte from Johannesburg, South Africa. All came for a single reason: to join in a fast-growing activity in general aviation—escorted adventures with Thierry Pouille and his company, Air Journey." />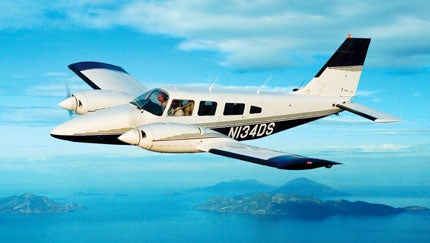 Bob and Jill Blettner flew from Wisconsin down to Key West, Fla., in their Cessna Centurion to meet Thierry Pouille for the first time. Jimmy and Diane Jones came from Georgia in their C-206. Don and Arlene Stoppe flew their Seneca from New Hampshire. Philippe Harsch arrived from Paris, and Marc Cotte from Johannesburg, South Africa. All came for a single reason: to join in a fast-growing activity in general aviation—escorted adventures with Thierry Pouille and his company, Air Journey.
In the first of what's to become a preflight ritual over the next two weeks, Thierry has assembled the group for a complete briefing of routes, frequencies and procedures for the next morning's departure. Each has been given a navy blue satchel, their airplane's N-number embroidered on the outside and the inside stuffed with trip information, including charts, reference books and the like. The itinerary will take them out of Florida over the Caribbean Sea to Belize, landfall for a two-week airborne excursion throughout Central America.
"Before we started tonight, one of you asked me if it was true there were alligators in the freshwater rain forests there," Thierry addresses the group. "Well, I can promise you that is absolutely false. There are no alligators. Of course, there are plenty of crocodiles!" Thierry teases, making the group laugh.
After years in the travel business, Thierry and wife, Sophie, started Air Journey in 1998, a company that specializes in airplane trips of a lifetime. "People with a private plane want to go where only private airplanes can go," Thierry states matter-of-factly. "If they wanted to go where cruise ships go, they would take a cruise ship."
Thierry's new group that's headed to Central America is proof of exactly that. They're well-traveled; all fly airplanes so they can go when they want and where they want. All have come for an adventure, off the beaten path, flying themselves and their families. And just as important, they've all come to do it under the wing of Thierry and Air Journey.
"I was fascinated by the places he goes to, but I don't think I'd try this on my own," says Jimmy.
Page 1 of 4