Tuesday, September 30, 2008
Extreme Flying
The 109th Airlift Wing pilots the world's largest ski plane to the Greenland ice cap
The 109th supports the National Science Foundation at remote outposts such as Camp Summit (left), where researchers live in tents on an ice depth of more than 10,000 feet. "Nemo the Blimp" (right) is a tethered balloon that makes a vertical profile of the atmosphere, collecting temperature, humidity, wind speed and direction.
"Our mission requires teamwork and communication to flow smoothly," says Maj. Falvo. "It's great to see it all come together with the precision of a Swiss watch…like a well-oiled machine." On downwind, landing gear is extended and massive skis are lowered below the wheels. Made of aluminum and steel, the main-gear skis are 20 feet long and 5 feet wide, and each weighs a ton; the nose ski is 10 by 5 feet.
"Camp Summit, Skier 71 left base Skiway 26," radios Maj. Elsworth. I make out some dark specs below, like bugs on a windscreen. "300 feet," calls out Novak, still glued to the radar altimeter, "100, 50, 40, 30, 20, 10."
The 109th Airlift Wing
Based at Stratton Air National Guard Base in Scotia, N.Y., the 109th Airlift Wing supports the National Science Foundation (NSF) on polar airlift missions and is the only unit in the world that flies the ski-equipped LC-130. From April to August, the unit transports supplies and scientists to research outposts in Greenland. From October to February, the 109th flies resupply missions from NSF's McMurdo Station in Antarctica to the South Pole and other remote locations. (Visit
www.goang.com
and
www.nsf.gov
.
)
"Although his trained eyes recognize the white-on-white skiway, all I still see is a lot of nothing. Pure white nothing."
Members of the 109th team are passionate about polar aviation and love what they do. "The flying is unique and challenging, like it must be to land on a navy ship," asserts Maj. Bradley. "My absolute favorite part of the 109th is the amazing people. I'm happy to go to work every day with them." His coworkers are a mix of full- and part-timers with "regular" jobs and varied hobbies. My public affairs host, Lieutenant Colonel Robert Bullock, is president of the New York State Archives Partnership Trust, and his assistant, Captain Shane Gernand, is a project manager at General Electric.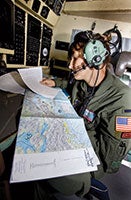 First Lt. Kelly Williams navigates from New York to Kangerlussuaq.
"The LC-130 is like a giant floatplane," says Lieutenant Colonel Mark Doll, a full-timer on a leave of absence from Northwest Airlines. "Not a high-power one like a Beaver, but more like a J-3 Cub. It requires finesse because you have barely enough power to get the airplane to fly."
"It's extremely versatile," adds Lieutenant Colonel Mark Sakadolsky, who has been with the unit 22 years and flies up to 30 polar missions yearly. "We fly on snow, on paved runways and in the desert, and we perform air drops. The mission I do here is like being a bush pilot."
Page 2 of 4