Tuesday, September 30, 2008
Extreme Flying
The 109th Airlift Wing pilots the world's largest ski plane to the Greenland ice cap
Camp Raven
Operating in such austere conditions requires specialized training. At Camp Raven, 6,930 feet MSL, pilots practice takeoff and landing skills on a groomed 6,251-foot skiway, as well as on the open snow. A physically demanding survival course, nicknamed "Kool School," is held every two years at Raven, where winds can reach up to 100 mph. Participants are educated about survival gear and how to build shelter and generate drinking water.
Married couple Mark and Lou Albershardt make up the entire population of Raven, and aside from the abandoned DYE-2 radar site, their modest living quarter is the only structure for hundreds of miles. (Yes, they're avid cross-country skiers.) They're a vital part of operations, maintaining the skiway and transmitting weather observations to base ops.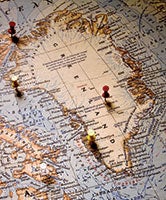 Greenland (a slightly misleading name given that its landscape is 80% ice) is home to 56,400 people and 29,000 Siberian husky sled dogs. Jakobshavns Fjord meets Disko Bay on the western coast in a stunning display of glaciers and floating icebergs.
Kangerlussuaq
It's 24 hours of daylight and mosquitoes are in full force in Kangerlussuaq, formerly Sondrestrom U.S. Air Force Base. Musk ox and reindeer roam the hillsides; howls of husky sled dogs permeate the tundra. At the head of a dramatic 105-mile fjord, this west coast town exists solely to support its airport and receives up to 50 flights daily during the summer: Air Greenland runs commercial flights from Copenhagen and within Greenland (no two towns are connected by road); mineral companies charter helicopters and transatlantic ferry flights stop for fuel. Base operations for the 109th at Kangerlussuaq include mission planning, maintenance and spare-parts storage.
"The 109th couldn't do what they do without Polar Resources," allows Lt. Col. Bullock. CH2M Hill Polar Resources (
www.polar.ch2m.com
) provides logistics planning of air support and other services for NSF camps. "It's a balancing act with cargo and passengers," explains Mark "Sparky" Begnaud, a polar logistician. "And the wild card is Mother Nature." On one flight to the ice cap, 23 members of the Danish parliament join us, and Polar Resources doesn't take this lightly. "There's always a danger of getting stuck and if they have to stay, it will be disruptive to the research efforts."
It's 3 a.m. when we board Skier 93 for the return to New York, but the sunny sky reads more like 3 p.m. Loadmasters have packed the cargo bay with everything from coolers and mountain bikes to science equipment and a 10-foot broken prop—the web seating arrangement for passengers is tight. Up front, Lt. Col. Doll, ruminates about where we've been. "Our mission challenges us to navigate where there are few charts, to land where the conditions may not be fully known and to take off from snow conditions that vary hour by hour." Six and a half hours after departing Greenland's Arctic, we touch down in upstate New York to a warm June afternoon. Sweaters are shed, cell phones beep back to life, and the crew disperses to families, friends and their "regular" lives. "I tell people where I've gone, and they don't believe me," smiles 1st Lt. Williams. "It's hard for them to fathom."
Spot Satellite Personal Tracker
www.findmespot.com
Spot is a tracking device that uses GPS and satellite to allow users to communicate their latitude/longitude coordinates via e-mail and text messages by indicating a status of "OK" or "Help." In a survival situation, the 911 button can be used to activate emergency rescue services. Provided the Spot device has a clear view of the sky, it should work anywhere that the Globalstar communications network covers. I took mine to the Greenland ice cap, and friends back home were able to follow my journey in real time on Spot's tracking website, overlaid on a Google Earth map. [For a full review, see "Tech Talk: Spot Satellite Personal Tracker" from Plane & Pilot November 2008.]
Page 4 of 4