Thursday, September 1, 2005
Flying In Europe
You wouldn't believe how easy it is with just a little extra preflight planning

When the chance came to fly a Cirrus across Europe, it would be an understatement to call it a chance of a lifetime. For years, it had always seemed to me that Europe was the perfect place to have a small, personal airplane. You can fly from almost anywhere to anywhere else in western Europe on a single tank of gas." />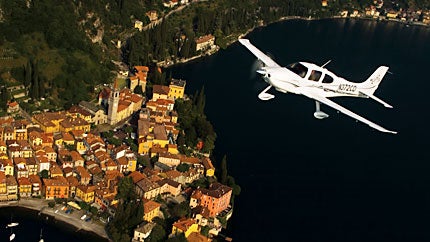 When the chance came to fly a Cirrus across Europe, it would be an understatement to call it a chance of a lifetime. For years, it had always seemed to me that Europe was the perfect place to have a small, personal airplane. You can fly from almost anywhere to anywhere else in western Europe on a single tank of gas. You're looking down medieval castles, hillsides where legions of Roman soldiers camped, important battlegrounds from two World Wars, wineries as well as windmills, an almost unimaginable display of a world civilized for thousands of years…. Would I like to see all of this from the window of a tour bus or from an aerial view the Greeks once thought was reserved only for the gods?
Our flight plan would take us out of Holland across Germany, then through the Alps into Switzerland and Italy. Next would come the highest airport in Europe, Saint Moritz, Switzerland, then to Salzburg, Austria, and finally back to the Netherlands to return our borrowed Cirrus SR22. Flying the airplane would be the same as it is anywhere, but the trip would be an opportunity to test my medal at the comparatively elaborate preflight planning that flying in Europe requires.
There's just no arguing that piloting a GA aircraft in Europe is exponentially more involved than flying in the United States. At first, trying to figure out where to even begin the preparation can seem a bit like transferring into a graduate-level organic chemistry class at mid-semester. But little by little, pieces to the puzzle fall into place, and fortunately, there are lots of people in the world who are happy to help.
The members-only section of the AOPA Website (click on the Trans Atlantic section) is a good starting place. There you can find basic info about traveling abroad, plus a list of AOPA groups in Europe. Another valuable source for European flight planning is Jeppesen. As the world's repository of aeronautical data, they provide a number of goodies to help bring the whole picture together. Jeppesen sells VFR and GPS charts for the whole of Europe as well as IFR charts and approach plates. If you're a flight-planning software fan, Jeppesen's FlightStar program is just as happy planning for Europe as it is putting together flights in the United States. They also sell the Bottlang Airfield Manual, a sort of Euro-Airport Facilities Directory or AOPA Airport Directory that lists wads of information, including frequencies and phone numbers for any airport you're likely to visit.
Page 1 of 3